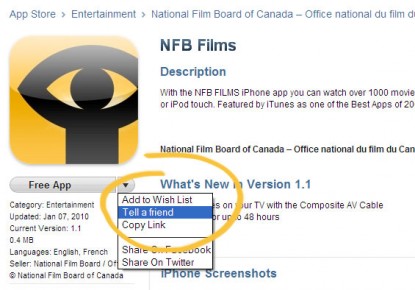 Tell a friend about the NFB iPhone app
News
Ever since yesterday, iTunes lets you send apps to friends as gifts – but since our NFB Films iPhone app is already free, you can "Tell a Friend" about it [iTunes Link].
You know those friends that roll their eyes whenever you tell them how incredible this app is? Well, now you can harass them with a message from iTunes!

Tell a friend about the NFB iPhone app (iTunes link)
Also, we're working on improvements for the new version of the app. Let us know below if there's anything you'd like to see added.