Musical Chairs for NFB.ca's Content Team
News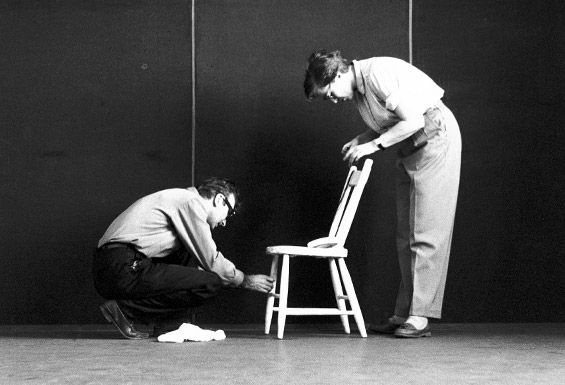 Things move fast in internet time, and the people on NFB.ca's web content team are no exception.
Since joining the crew last Christmas, I've seen old faces disappear (sniff!), new faces appear, and old faces appear in new places. All very confusing!
Now that the little game of musical chairs that had us crisscrossing the office and swapping desks has come to a halt, and that even our closest colleagues are fully mystified by all the changes that occurred in the kerfuffle, we thought it might be useful to let everybody know who does what now, who sits where, and all of that sort of jazz.
So this is how it all happened. (Bear with me here; I think we can figure this out without resorting to diagrams.)
Back in the spring, Matt Forsythe, who was then content manager for NFB.ca, set the ball rolling by deciding to make a Big Career Move. Already an established illustrator, and comic-book artist, Matt chose to leave the NFB to better focus on personal projects, of which he has many. We were sad to see him leave, but when we saw his illustrations starting to crop up in all these amazing places (as in a Guardian newspaper slide-show, not long ago) we knew Matt had made the right decision, and that he was well on his way to getting where he wants to be.
Matt Forsythe's departure, however left a gaping hole on the content manager's side of the room.
It was then that Julie Matlin, the English web writer, decided to apply for Matt's old job. She obtained the position soon after, and has been happily and expertly managing NFB.ca's web content and social networks since.
Since being promoted to her new position, Julie sits across from Matthieu Stréliski, the French content manager who is the only one not to have moved desks since the beginning of the shuffle. Every hurricane they say, has an eye. Our eye is the unmovable Matthieu.
With Julie's promotion, the English web writer's position became vacant. This didn't escape my attention for long, and before anybody could say "So, is your Dad French and your Mom English or vice versa?", I had already obtained permission to take over Julie's old position. So I moved my plants and all my stuff to Julie's old corner desk and tada! I became the English web writer.
So far, so good?
So since Matt had gone, we were one player short. The Fab Four had dwindled to the Three Musketeers, if you will. This was solved with the arrival of Catherine Perreault, a fun and friendly fashion blogger and community radio manager who was hired to replace me as French web writer. If you read French, Catherine recently wrote a post on the French NFB blog to introduce herself. Catherine is already proving to be a great addition to our team and we are mighty pleased to have her with us.
So there you have it, our entire game of musical chairs, in a nutshell.
If you have any questions about what we do here at the NFB, or what our days are made of, or have requests for films to be added online, or blog post topics you'd like us to address, please contact us. What we'd like you to know is that old faces or new faces, NFB.ca is run by real people. Real people who really care and wish for nothing more than to hear from you – really.