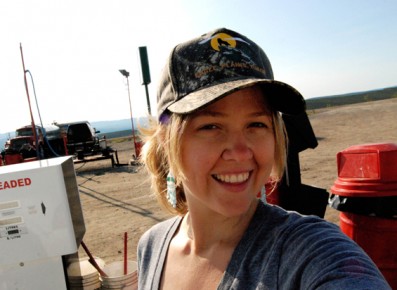 NFB Tour: On the road again
News
The other day, my boss called me into his office and said something that caused me to erupt into a little dance. "Weldon. The President is going on Tour, as you know, and I've decided to send you along to blog and take pictures." He said it would make sense to have someone on the ground, documenting the events on our blog so that  those who couldn't make it out could still participate, comment and get involved. I nearly hurt myself from all the smiling.
Now. I love my office, my plants and my colleagues (yes you too, Mivil, even if you always make fun of my hippie herbal tea), but everyone who knows me will tell you that my true calling is the road. Prior to my current incarnation as a web writer for the NFB, I worked as a freelance journalist and photographer and did a lot of travel writing. I was also once a flight attendant for Air Creebec, a Native-owned airline that flies to Northern Quebec and Ontario, on either sides of Hudson Bay. No joke – I love to be on the move.
Two summers ago, I was hired by the Canadian Tourism Commission to blog about my travel experiences across Canada. What I discovered on that trip is that my country and its people are indeed very awesome. From getting "screeched in" in Saint John's, Newfoundland, to catching a live performance of Arctic circus troupe Artcirq, in Iqaluit, to dancing under the midnight sun at the Dawson City Music Festival, in the Yukon, what I found was a country so vast and so diverse that if you told me I could never leave it, I would still be the happiest of campers.
So it is that my Canadian love affair is set to resume tomorrow. At 6 am tomorrow morning I will be catching a flight to Timmins, Ontario, where the NFB Tour is making its next stop. If you live in or around Timmins, I highly encourage you to come meet NFB President Tom Perlmutter and say hi. We'll be at Centre Culturel Laronde (32 Nord, rue Mountjoy). The event, to be held in French, starts at 5 pm.
As I understand it, my role on the road will be to document the town hall style meetings Tom will lead in each community we visit, via blog posts and photographs. What were the hot topics? What were some of the concerns? What stories were brought forth, what local achievements celebrated? I promise to do my best to capture the spirit of each community and would also like to write some location-specific cultural stuff, time and space permitting.
I sincerely hope that you get as excited about the NFB Tour as I am. People, stories, and the telling of stories have always fascinated me. I wouldn't have become a journalist if I didn't care deeply about that stuff. I believe this tour is a fine opportunity to get together and share our histories – personal and collective – and examine the ways in which we would like to archive and share the narratives from our pasts and tell those tales that are yet to be told.
I hope you join us.