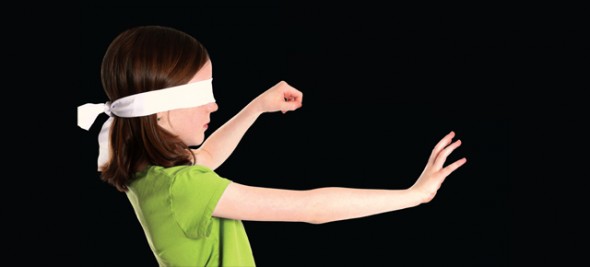 Ask your students: Can you see in the dark?
Education
This is a guest post by Louise Bonneau, a teacher at École Jacques-Ouellette, which is dedicated to the needs of blind or visually impaired students between the ages of 4 and 21.
Several visually impaired students attend their local school. Their successful integration has been a unique and rewarding experience for them, their classmates and their teachers. To ease integration, some teachers choose to educate students about difference, with a focus on respect for their students' differences. Nicola Lemay's film Private Eyes and its accompanying teacher's guide have been used in class to raise awareness about differences.
This animated film tells the story of Matthew, a boy who is never afraid of the dark. Since he's been in darkness all his life, Matthew has eyes where other people only have hands, feet or ears. This week is Matthew's birthday and he's very curious about the surprise his parents are preparing for him.
Here are some comments from teacher who found the film to be very effective in their primary school classrooms:
Anny's first-grade students loved the film. They were fond of Matthew and were captivated by the ways in which he dealt with his surroundings. Learning Braille to read Matthew's message was exciting. With help from their teacher, the students eagerly replied to his letter. Reading the letter Matthew sent in response to their short message was great fun for them. The film and the activities, Anny said, met the goal of educating students about visually impaired people and integrating a new classmate. Helping the class embrace difference so it could welcome a new student was a positive experience, according to Anny.
As for Catherine, she used Private Eyes and its lesson plan in her special-education class. By showing the film, she wanted her students in the 5th and 6th grades to draw parallels between Matthew's situation and their own learning difficulties. Her students read the novel by Gilles Tibo, watched the film by Nicola Lemay and experimented with the lesson plan. The perfume activity was a big hit with them. They created their perfumes by mixing essential oils. They then conducted a survey of the classes in their school to find the most popular perfume. The graph they made to compile the information helped them choose the perfume that students liked best. The activity also provided initial contact with other students. According to our sources, the winning perfume is a secret and mysterious blend of orange zest, almond and cinnamon. During this 2-week experience, youngsters realized that learning in a new way—while respecting difference—also leads to success.
In Benoit's class, the film was shown twice. His group included visually impaired students, who were fascinated by what they discovered. They had never realized before how different their low vision was from blindness. They came to understand this huge difference as they watched Matthew in the film, and especially when they took part in the blindfold activity. As for sighted students, they wondered how their blind classmates could make drawings of the things they smelled or heard. How did they draw objects they had never seen? How did they get their bearings without seeing where they were going? There were plenty of questions, but only one answer everyone agreed on: like Matthew, the classmates made the most of the senses they had.
According to the teachers, after students watched Private Eyes and completed the activities teaching them about difference, they saw their blind friends as heroes. The film is a definite must-see!