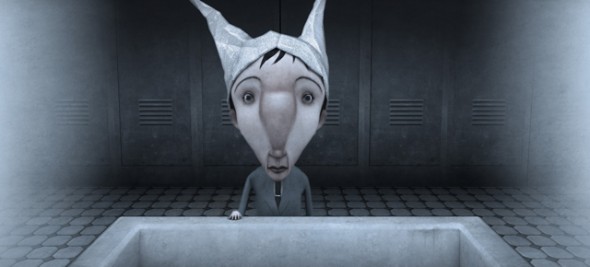 Annecy 2012: 2 Winners and a Nominee
News
* This post is a translation. Read the original here.
The Annecy International Animated Film Festival is the oldest and biggest event of its kind. Bringing together film professionals from around the world, it represents the crème de la crème of international animation. So it's always with great pride — and a certain amount of nail biting — that the NFB's filmmakers and production teams head off to Annecy each year to present their latest works. This year, the official selection of close to 50 short films included four from the NFB: Here and the Great Elsewhere by Michèle Lemieux, Bydlo by Patrick Bouchard, Edmond Was a Donkey by Franck Dion and Kali the Little Vampire by Regina Pessoa.
And with Annecy now over for another year, the NFB is bringing home 2 awards and one nomination.
Special Jury Award for Edmond Was a Donkey
I was fortunate enough to meet well-known French animator Franck Dion when he came through Montreal last winter. At the time, he was wrapping up postproduction on his most recent film, Edmond Was a Donkey, in the NFB studios.
Co-produced by the NFB, French studio Papy 3D and the ARTE television network, it's a charming animated short that's big on charm, and I'm not the only one to have fallen for it. Edmond Was a Donkey left Annecy with a Special Jury Award in the Short Film category.
Produced by Franck Dion, Richard Van Den Boom and Julie Roy, the film tells the tale of Edmond, a quiet little man and devoted employee. When his colleagues jokingly crown him with a pair of donkey ears, he suddenly finds his true nature — and decides to wear the ears permanently. Dion uses 3D animation to tell this touching tale of an outsider with great empathy, highlighting the challenges of being true to yourself in a conformist world.
Audience Award for Second Hand by Isaac King
Produced with the support of the NFB's FAP (Filmmaker Assistance Program), Second Hand by Isaac King also took a prestigious honour at Annecy: the Audience Award. The film plays on the expression second hand to refer to the ticking hand on the clock as well as re-used items.
The FAP offers support and technical services to Canadian independent filmmakers; it's the equivalent of the ACIC (Aide au cinéma indépendant) program for French indie directors. In April 2011, I met with Johanne Bergeron, the program's head, who told me how it all works. You can read the interview here (in French.)
You can watch the film (for free) on King's Vimeo page, and it's definitely worth checking out. You might even recognize yourself…
Marcel Jean named Artistic Director
More good news: long-time NFB collaborator Marcel Jean has been appointed as the new artistic director of the Annecy International Animated Film Festival. Taking the reins from Serge Bromberg, he's the first artistic director of Annecy to hail from outside France. In a joint press statement, NFB Chairperson Tom Perlmutter and French Program Director General Monique Simard — both of whom were at Annecy — stated: "This appointment, which underscores Marcel's world-renowned expertise in the field of animation, reflects highly on the animated film industries of Quebec and Canada."
Marcel Jean joined the NFB in 1998 as Special Producer for Collections before going on to serve as Executive Producer of the Animation and Youth Studio. From 1999 to 2005, he produced or co-produced some 30 films, including Black Soul (Martine Chartrand, 2000), La pirouette (Tali, 2002), Nuit d'orage (Michèle Lemieux, 2003) and Accordion (Michèle Cournoyer, 2004).
A film critic for Le Devoir and 24 images, Jean has also taught animation history and aesthetics at Université de Montréal for over 20 years and has authored a number of books on the subject, including Le langage des lignes, Le cinéma québécois, Pierre Hébert, l'homme animé and (with Michel Coulombe) the Dictionnaire du cinéma québécois. He notably oversaw publication of the compendium Quand le cinéma d'animation rencontre le vivant (Éditions 400 coups).
In his new capacity, Jean will sit on the festival's selection committee and oversee artistic direction of the event.
***
The Annecy International Animated Film Festival was held from June 4 to 9, 2012.
For the full list of winners, visit the official festival website.