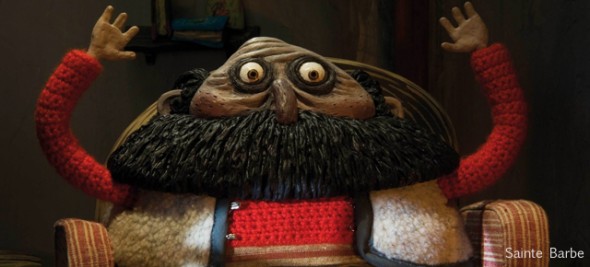 Watch NFB Films for Free in Canada's Public Libraries This Winter
News
Through its Film Club, the National Film Board of Canada is a privileged partner of public libraries across the country. For winter 2013, the NFB is presenting both classics and new releases in 4 programs for general audiences and one for children.
To mark International Women's Day, March 8th, the NFB will be presenting screenings of the animated short An Artist with Status Quo? The Unfinished Business of Feminism in Canada.
In Michèle Cournoyer's An Artist, a girl demonstrates her gift for music, while Status Quo?, directed by Karen Cho, looks at the ongoing importance of feminism through the lens of related struggles.
Also on offer in winter 2013 is a program featuring the short films The Visitor, directed by David Barlow-Krelina as part of the Hothouse 8 program for emerging animators; Paula, by Dominic Etienne Simard; and Islet, Nicolas Brault's whimsical ode to the Arctic.
Paula – (Trailer), Dominic-Étienne Simard, provided by the National Film Board of Canada
Libraries that screen Islet and Vanishing Point—a documentary by Stephen A. Smith and Julia Szucs about an Inughuit family living on the ice in Greenland at a time of many social and environmental challenges—will be entered into a draw to win the 24-film box set Unikkausivut: Sharing Our Stories, valued at $899.
The NFB is also presenting a program that brings together Who Cares, in which director Rosie Dransfeld captures the gritty and dangerous world of Edmonton's sex trade workers, and Jennifer Baichwal's Payback, based on Margaret Atwood's book Payback: Debt and the Shadow Side of Wealth. The latter was an official selection at the 2012 Sundance Film Festival.
Payback (Trailer), Jennifer Baichwal, provided by the National Film Board of Canada
Children will love the varied program of 5 animated films we have curated for them. It includes HA'Aki by Iriz Pääbo, Sainte Barbe by Claude Barras and Cédric Louis, Christopher, Please Clean Up Your Room! by Vincent Gauthier, Glasses by Brian Duchscherer and the new release Big Mouth by Andrea Dorfman.
For more information on the NFB Film Club, contact: Marianne Di Domenico | 514-283-8953 | m.didomenico@onf.ca