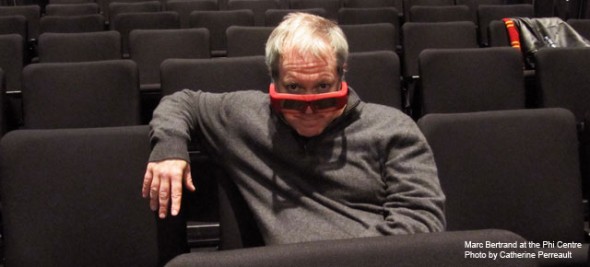 3D: Stereoscopy for Dummies
Films
This post originally appeared in French on the ONF.ca blog.
***
Marc Bertrand, a producer at the NFB's Animation and Youth Studio, gave two master workshops on stereoscopy, also called 3D imaging, on March 8, 2013 at the Phi Centre during the Montreal International Children's Film Festival (FIFEM).
Marc has produced 6 animated films in 3D during his 15 years at the NFB. He gave an overview of the experience he has gained to explain the principles of stereoscopy – a technology that has changed dramatically over time. "Ten years ago [stereoscopy] was expensive and complicated," Marc said.
Fortunately, that's no longer the case. Filmmakers can now understand stereoscopy and use it in their films without having to invest millions of dollars in the process.
Stereoscopy 101
In order to understand the principle of 3D imaging, you have to understand human vision. The reason we have two eyes is so that we can see things around us in three dimensions. That's why we need to wear glasses when watching a 3D film: everything depends on vision. Our left and right eyes don't see the same thing. That becomes readily apparent if we close one eye at a time. The image in front of us shifts from one eye to the other. As Marc explained,
"Our brain is able to merge the two images into one so that we have a single stereoscopic vision. If we didn't have that ability, the world we see would be completely different… and flat."
The principle of stereoscopy was invented in the 1850s. It was already understood at that time that two cameras were needed, placed side by side at a distance equivalent to the space between both eyes to produce a stereoscopic effect. The two images are then projected onto a screen. The 3D glasses enable our brain to perceive a single, three dimensional image.
3D glasses
There are several different types of 3D glasses: two-colour glasses (the most common), which result in an anaglyphic image, passive glasses with polarized lenses and active 3D glasses (as seen in the photo of Marc, above). Active glasses are synchronized with the screen and block the image six times (alternating three times per eye) for each of the 24 images projected per second. As a result, the brain registers the images that each eye sees within the span of a second and turns them into single images. "The choice of glasses is very important for image quality," explained Marc. He prefers active glasses.
The NFB and stereoscopy (3D)
Falling in Love Again
The first animated film made in stereoscopy at the NFB was Munro Ferguson's Falling in Love Again (2003), a charming story about love at first sight. Two-colour (Color Code 3D) glasses are needed to view the film's stereoscopic effects. If you don't have any, you can click here to order a free pair.
When we began experimenting with stereoscopy, we were told that is was preferable to shoot wide angles and use slow camera movements. "All abrupt movements and close-ups are generally to be avoided," Marc said. That means the depiction is more theatrical than cinematic.
Tower Bawher and Drux Flux 3D
After Ferguson's romantic Falling in Love Again, producer Marc Bertrand showed us two films by the talented Bulgarian filmmaker Theodore Ushev: Tower Bawher (remixed in 3D), a whirlwind tour of Russian constructivist art, and Drux Flux 3D, a metaphoric representation of modern man being crushed by the steamroller of productivity. Neither film complies with any of the rules of stereoscopy.
The shots are short and close up. The filmmaker has fun confusing viewers with eye inversions and distances that are too wide. These effects are the worst possible nightmare for 3D (and our brains!), and yet…  Ushev accomplishes the impossible.
Facing Champlain
When you shoot in stereoscopy, the whole shot has to be in focus, Marc explained. Therefore, focusing the image is very important. "You have to avoid anything blurry," he emphasizes. "Otherwise, you lose the stereoscopic effect and viewers get confused."
With Facing Champlain, directed by Jean-François Pouliot for Quebec City's 400th anniversary, the NFB made its first attempt at creating a 3D film using both animation and drama. "It was quite a challenge," Marc recalled. "The animation team and drama team didn't speak the same language technique-wise. And to make things worse, we only had three months to complete the film."
Additional challenges surfaced during the shoot. "The basic cinematic language didn't work," he explained. "It was impossible to do shot/reverse shots, for example, or have characters enter or exit from the edges."
The film was shot in 35 mm with two cameras, one on top of the other. "To be perfectly honest, it was hell," said Marc. "A lot of work was done in post-production despite the fact that we had very little time to make the film. Luckily we had a motivated team and we really enjoyed doing it."
Private Eyes
Private Eyes, Nicola Lemay, provided by the National Film Board of Canada
When Marc came across the book Les yeux noirs by Gilles Tibo (Éditions Soulières), he immediately thought of using stereoscopy to make a film version of the story.
It's a story about Matthew, a little boy who isn't afraid of the dark because he's got eyes hidden everywhere. Matthew is blind. His hidden eyes are his other senses: smell, touch, taste, etc.
In this case, stereoscopy adds a great deal to the story, which unfolds primarily in Matthew's imagination. Images were drawn in white on a black background so that viewers, like the character, are immersed in darkness. That decision resulted in a lot of problems for the Private Eyes film team. "White on black creates a ghost effect and leaves traces with every movement," Marc explained. "That's why drawings of the main character were ultimately filled in with gray."
Another challenge that director Nicola Lemay encountered was the fact that the two slightly separated images captured simultaneously to create the stereoscopic effect produced a double frame effect at the edges. For that reason, he had to remove the contours on each shot. That way, the image still gives the impression of floating in space and you no longer see the two superimposed images.
ORA
After showing us an excerpt from Les ailes de Johnny May (The Wings of Johnny May), a documentary by Marc Fafard about the legendary Inuk pilot Johnny May that contains an animated 3D segment by Nicola Lemay, Marc Bertrand showed us ORA, a film about dance directed by Philippe Baylaucq, choreographed by José Navas and produced by René Chénier.
The film was shot in 3D thermography using two infrared cameras that capture heat instead of light. Since use of the technology is restricted by the U.S. military, Baylaucq's team had to go the United States to use the cameras. "When the shoot team arrived on site, no one had ever used the new thermography cameras in that way," noted Marc. "A certain amount of experimentation also awaited them south of the border." For example, they didn't know if the cameras would capture heat from the dancers' bodies in the same way on the ground and on the wall. "The result was a wonderful surprise!" Marc said.
***
Read Part 2 of this post, 3D Stereoscopy: A Q&A with producer Marc Betrand.
If you're interested in learning more on Stereoscopic 3D, read this interview conducted a few years back with Maral  Mohammadian, then head of the NFB's 3D Lab.