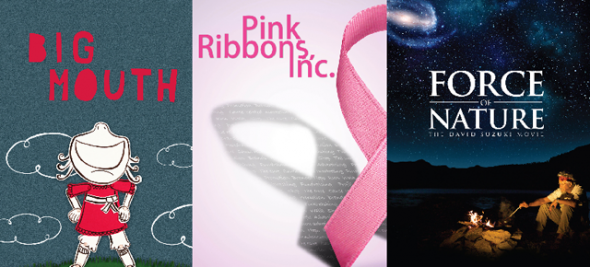 Top 5 New Releases on CAMPUS
Education
Watching quality NFB films has never been easier, and our online selection has once again increased! We've added some of our newest feature films to our educational screening room, CAMPUS, so you can turn your classroom into a cinema. The site features documentaries, animated shorts and interactive productions that cover a range of subjects linked to the Canadian curriculum. Here's a list of five films we're most excited to have online!
Force of Nature: The David Suzuki Movie, Sturla Gunnarsson, Office national du film du Canada
#5: Force of Nature: The David Suzuki Movie
Award-winning director Sturla Gunnarsson showcases David Suzuki's life-long personal and professional achievements in a compelling doc that offers students the insights of an icon. The film is geared to a secondary-level audience and has four unique, downloadable study guides.
Big Mouth, Andrea Dorfman, Office national du film du Canada
#4: Big Mouth
Andrea Dorfman's beautifully animated short explores the ways we perceive ourselves and our relationships with others, and links to themes of diversity, self-esteem, empathy, creativity, arts and culture.  Related activities and discussion questions can be found in the accompanying study guide.
Discover Science: Episode 8 – The Mighty Strong Book, Akihiko Sawai, Office national du film du Canada
#3: Discover Science
This exciting new series for elementary-level learners consists of unique experiments that explore a wide range of science topics.  Watch a camel stand on eggs, or a glass shatter from a high pitch! The short films have curriculum links of science, leadership and teamwork, and help engage everyone in creative scientific discoveries.
Pink Ribbons Inc., Léa Pool, Office national du film du Canada
If you haven't seen this film yet, prepare for an eye-opening and entertaining discussion on contemporary cause-marketing culture.  This fantastic feature documentary shows the devastating reality of breast cancer, which marketers have labeled a "dream cause," and a behind the scenes investigation of its "pretty in pink" image. Curriculum links include health, advertising, and media literacy. The film and study guide are geared to a secondary level.
Status Quo? The Unfinished Business of Feminism in Canada, Karen Cho, Office national du film du Canada
#1: Status Quo: The Unfinished Business of Feminism in Canada
This feature documentary shows the current state of gender equality in Canada, while reflecting on the history of the feminist movement. Curriculum links include women's studies, history, health and wellness, community action, and social justice issues. The film is so new that our education team is still in the process of creating its accompanying study guide, so visit our website in the coming weeks to download the full guide.
Want more NFB new releases?  Check out our new releases playlist: www.nfb.ca/playlists/campus-new-releases/, or better yet, browse our site and let us know what your top five picks are!
End the school year off with a screening of a new, award-winning NFB title and watch your students engage in educational entertainment!
Download the NFB Education catalogue for details of new releases and featured educational productions. All films are available for purchase in our online store, and many titles are available as digital downloads.