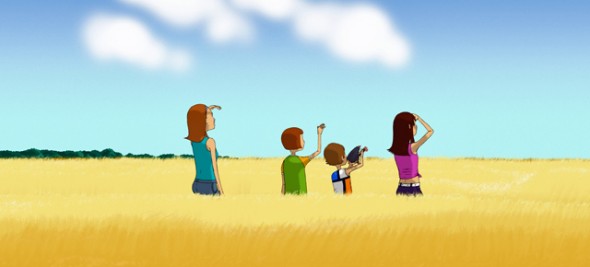 Top 7 Sizzling Summer Films for Youth
Education
To celebrate the arrival of summer, we've put together a list of 7 summer films that are guaranteed to educate and entertain young viewers as they try to keep cool during the summer heat. Perfect for the summer classroom, the poolside laptop or while chilling in the comfort of an air conditioned living room, these tantalizing shorts will keep your mind sharp and your creativity flying high as the mercury continues to rise.
Escape to the seaside with Tali's quirky animated short Under the Weather. In this 1997 classic, vacationers sunbathe on the beach and frolic in the water on an overcast day. Watch this cute and comical film to find out what happens when the sun comes out from behind the clouds! (Ages 12+)
Looking to re-energize your spirits as the temperature rises? Beat the heat with a fast-paced 10-minute film about a Canadian hero whose need for speed propelled him to international success. Sure to inspire and delight, this informative, heartfelt doc highlights Jerome's triumphs, as well as the many challenges he faced. (Ages 9-12)
Travel back through time with the mystical fairy tale Bonifacio in Summertime. This charming animation explores universal themes such as family, friendship, love, courage and loyalty through vivid storytelling and engaging characters. A lively take on the Medieval era! (Ages 6-12)
Fishing for a good story? Wapos Bay: Patients is part of an award-winning stop-motion animation series that chronicles the adventures of 3 boys from a Cree community in Northern Saskatchewan. This episode features a trip to summer camp and some swimming and fishing, as it tackles important themes such as tolerance, community, health and water safety. (Ages 8-13)
Get your engines revving with an animated short that will captivate viewers of all ages. Set in the 1970s, Big Drive chronicles a family road trip across the Canadian Prairies. The film's lovable sisters and their active imaginations are sure to charm audiences and perhaps even inspire an adventure or two on the open road! (Ages 7+)
Splash into summer with an underwater masterpiece. This stop-motion animation studies the life cycle of the endangered sea turtle and the ecosystems it inhabits. As enthralling as it is educational, this movie will hook audience members, young and old, with its refreshing view of these fascinating creatures of the sea. (Ages 5+)
Get your summer rolling with this NFB gem. The Devil's Toy, a short documentary made in 1966, depicts the rise of skateboarding in Montreal. Don't let the summer pass you by without seeing this vintage classic! You might even get inspired to try out a few skateboarding tricks of your own! (Ages 10+)
What are your favourite summer flicks? Tell us what you love most about the summer season! Share your stories below, or tweet us at @thenfb.
Happy summer viewing!