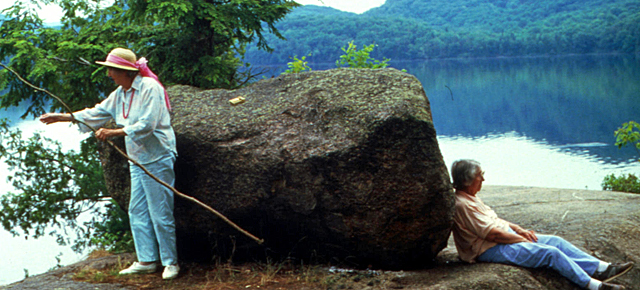 I am absolutely fascinated by the nuts and bolts of film distribution. I am doubly interested in theatrical distribution and why some films do well while others do not. So I thought I would try something different in this post and talk about the biggest box office successes the NFB has ever known. To simplify things, I will only deal with films that have had theatrical distribution in Canada and the United States. (I am also focusing only on "100% NFB" films—no co-productions—that are currently available on NFB.ca.)
No. 5:
Drylanders was the NFB's first-ever feature fiction film. It was shot in widescreen SuperScope (and glorious black and white) during the summer of 1961 in Saskatchewan and released 2 years later. It premiered in Swift Current on September 25, 1963, to spectacular reviews, and was subsequently released throughout the Prairies. Its success led to a release in Eastern Canada and B.C. Audiences were enchanted by its Canadian story and setting, and the film eventually played in some 500 cinemas across the country. It also was distributed theatrically in the USA and United Kingdom. (You can read a more comprehensive post I wrote about the film here.)
The story: A family moves to Saskatchewan in 1907 to try their hand at farming.
Why the film worked: A Canadian story, for a change.
Total box office: $200,000 (Canada)
No. 4:
Royal Journey, the NFB's record of Princess Elizabeth's Canadian tour in the fall of 1951, will always be remembered for being the first feature film ever shot on Eastman colour 35mm film stock. It was originally to be a 20-minute newsreel but the NFB had shot a lot of good material and was not sure what to do with it. The president of Famous Players cinemas, J.J. Fitzgibbons, was asked to look at the 60-minute rough cut of the film and advise the editors. He told them to cut nothing out, and that he would gladly show the film in his theatres on one condition: that it be ready for a Christmas release, just one month away. NFB employees worked day and night to complete the film on time. Columbia Pictures premiered it on December 21, 1951, in Ottawa and then released it throughout Canada. After only 3 weeks it had grossed $250,000 in Canada alone. It was released in New York City by United Artists in January of 1952 and played throughout the USA. Royal Journey was, at the time, the most widely seen feature film in Canada, ever—2 million Canadians saw it in the first 3 years of release. (You can also read a more comprehensive post on this film here.)
The story: Princess Elizabeth and the Duke of Edinburgh tour Canada in 1951.
Why the film worked: Everyone wanted to see the future Queen of England in glorious colour.
Total box office: $500,000 (Canada)
No. 3:
Mon oncle Antoine won 8 Canadian Film Awards (including best feature film) before it was even released! It then played at the Chicago Film Festival in October 1971 where it won the Gold Hugo for best feature. Strangely enough, most Quebec critics did not like the film, feeling that it was too nostalgic and maudlin. Heavily influenced by this negative press, the NFB and Astral Films decided to release the film in Toronto first and gauge the response. On November 12, 1971, it started its run at the Cinecity Theatre, playing with English subtitles. More negative press followed, this time from Quebec journalists who couldn't understand how a Québécois film could premiere in Toronto before Montreal. Astral films quickly released it in Montreal a week later and then throughout Quebec. It was such a hit in Toronto that the film got a nationwide release on Christmas Eve. Audiences did not care what the critics thought, and the film was a success in both French and English.
Based on the great reviews it had garnered in Chicago, Mon oncle Antoine was also picked up for US distribution. It opened in New York in April 1972 and played throughout the USA, including a 12-week run in Washington. It was also Canada's entry for best foreign language film at the Oscars but was not nominated. In 1984, the Toronto International Film Festival named it the greatest Canadian film of all time.
The story: A young man comes of age in 1940s rural Quebec.
Why the film worked: In one word—nostalgia.
Total box office: $750,000 (North America)
No. 2:
I had the pleasure of seeing The Company of Strangers in the presence of 3 of its actresses at a theatre in Ottawa. It was a screening organized by a local radio station that attracted just a dozen people! Luckily this was not a sign of things to come. When the film premiered at the Venice Film Festival in 1990, it received a standing ovation from the audience. Alliance Distributing loved what they saw and bought the distribution rights for Canada. The film was released throughout Canada in the fall of 1990, to excellent response (it played for the incredible duration of 5 months at a Toronto cinema). Audiences and critics alike were delighted with the film.
It was picked up by First Run Features stateside and released under the title Strangers in Good Company (to avoid confusion with the British film The Comfort of Strangers). The film was a big hit in the USA, playing just about everywhere. Total box office in the USA alone was over $1 million.
The story: Seven elderly women are stranded in the wilderness when their bus breaks down.
Why the film worked: A gentle story featuring some absolutely fascinating women.
Total box office: $450,000 (Canada); $1 million (USA)
No. 1:
The big daddy of all-time NFB film successes is… Cry of the Wild. This feature documentary racked up an incredible $5 million at the North American box office upon its release in 1974. Filmmaker Bill Mason had made a one-hour documentary on wolves for the Canadian Wildlife Service called Death of a Legend. Mason had a great deal of footage left over and proposed making another film, this time focusing on the re-integration of captive wolves into the wild. He filmed for several winters in the Northwest Territories and British Columbia. He also shot sequences of a special outdoor enclosure near his home in the Gatineau Hills of Quebec, where he kept several wolves that had been raised in captivity. (The re-integration of his captive wolves into the wilderness is a poignant moment in the film.) The NFB sold all rights to Toronto-based Keg Enterprises, who premiered the film in Edmonton in March 1973 with the intention of releasing it on a small scale throughout Canada (I saw it at the 2001 Cinema in Montreal).
A wildlife film distributor in the USA, American National Enterprises, saw the film and inquired about buying the American theatrical distribution rights. Keg Enterprises agreed, and Cry of the Wild was "launched" in New York City on January 2, 1974. The distributor rented several theatres outright and played the film continuously for several weeks, a process known as "four-walling." They also heavily advertised it in print media and on television and radio. The result: $1.8 million in box office in New York alone (in 80 theatres!). The film eventually played in 500 American theatres to great response and terrific box office.
The story: A documentary that shows that the wolf is not the bloodthirsty animal we think it is.
Why the film worked: A beautiful, compassionate nature film accompanied by a huge advertising blitz.
Total box office: $5 million (North America)
So there you have it. Our biggest box office hits ever. The $5 million made by Cry of the Wild is even more impressive when one considers that those are 1974 dollars! The same goes for Royal Journey, which showed that the NFB could make prestigious documentaries at a time when it was mostly known for WWII propaganda films and community-service films.
I hope you enjoy the films.
(Please note: Sarah Polley's Stories We Tell, which is still in theatrical release in the United States, has surpassed the $1.5 million mark at the box office.)