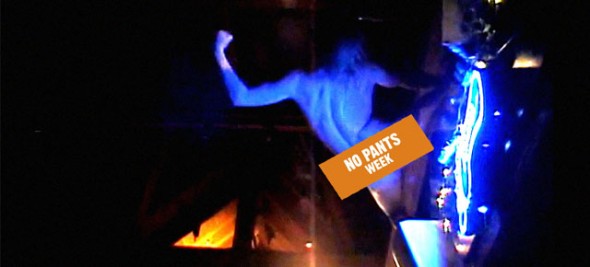 No Pants? No Problem!
Films
The annual No Pants Subway Ride took place this past Sunday, January 12th, as part of the annual No Pants Day. By the looks of it, participation was active, enthusiastic, and unquestionably bizarre. Check out a gallery of pantsless commuters around the world here. We decided to celebrate this odd quasi-holiday in our own special way. As I always say: there's an NFB film for that! Check out our selection of films, featured on our home page this week, that contain people without pants. Who needs 'em, anyway?!
Series 4 (Normand Gr
égoire, 1972)
Let's start off on the most baffling and otherworldly note possible, shall we? Series 4 is the kind of film you'd put on if you wanted to hypnotize yourself into a nightmare of kaleidoscopic nudity with a repetitively thumping soundtrack. If anything, I'd say it's a must-see for the sheer fact that you won't believe it exists until you've actually watched it. Nude human figures (not only lacking pants specifically, but seeming to lack any consciousness of the existence of clothing—very primordial) twist and turn, multiply and divide, copy, split, and seemingly dance to the indescribably mesmerizing soundtrack. These figures are really outdoing our pantsless subway commuters; they seem to live in an ethos of ignorance as pure existential bliss.

Series 4, Normand Grégoire, provided by the National Film Board of Canada
Our protagonist in No Problem would probably feel more at home with the pantsless commuters of yesterday than anyone in Series 4. In this animated short, an aging bachelor tries desperately to find love while his two alter-egos (one of which is shamelessly pantsless for the entirety of the film) try to destroy him. Will he triumph over his own self-destruction and finally get someone—anyone!—to go on a date with him? He's certainly not very physically fit (as evidenced by the scrawny little legs he reveals when opting out of pants) and his behaviour around women is, ahem, lacking. But where there's a will, there's a way, and this guy isn't done with life or love yet. Look out, world! A pantsless aging bachelor is on the prowl!

No Problem, Craig Welch, provided by the National Film Board of Canada
Ski Bums (John Zaritsky, 2001)
Ah, the life of a ski bum… no worries, no cares. Only fresh powder and bright sunshine as you endlessly take the hill. But what are the little tricks you need to learn in order to live this whimsical and carefree existence? How do you make money? How do you eat, live, and survive when even holding down a part-time job would compromise your 24-7 devotion to the hill? Whistler's mainstays offer some hilarious and, at times, brilliant tips, from poaching leftovers at the chalet to couch-surfing until you overstay your welcome. It's not easy to be so carefree, but these optimistic souls manage to pull it off somehow. Moreover, our good friend Johnny Thrash pulls one of the funniest pantsless stunts ever: first he rides a gyroscope naked, and then he takes the hill completely naked too. Sure, it results in an arrest for public indecency, but hey… Thrash says it was all worth it. Jump to the 57:00 mark in the film below to see Johnny at his best (and most naked).
Bob's Birthday (David Fine & Alison Snowden, 1993)
This one's a classic. If you haven't heard of or seen Bob's Birthday, you must have been either sleeping, non-existent, or at the very least, out of the country in 1993 when this short animation won the NFB an Academy Award®. The film starts out simply enough: it's Bob's 40th birthday and his wife is planning a surprise party, instructing guests to hide in the living room as Bob pulls up after a day at work as a dentist. But what seems like a plain enough idea goes awfully weird and ultimately wrong. Without giving away any spoilers, let's just say that Bob ends up pantsless and dancing on the coffee table with two bananas. This is a midlife meltdown indeed.

Bob's Birthday, David Fine & Alison Snowden, provided by the National Film Board of Canada
A treatise on the influence of advertising in contemporary capitalism, this experimental short features thousands of advertising images cut together at an increasingly frenetic pace. The effect is almost overwhelming, and cannot help but interrogate the pervasive subliminal effects of advertising in consumer culture. What is most interesting, though (and here we get to the pantsless part) is that the second half of the film increasingly features images of the nude female body. Whether these come from advertisements or pornography is unclear, but the effect is disturbing. We begin to question the relation between selling products and lifestyles for profit, and the corollary objectification and hyper-sexualization of the female body. What is the intended effects of these women, whose shy but beckoning smiles are offering something elusive yet attainable? The conclusion is unclear, but one thing's for sure: these girls are not wearing pants (or anything else).
We hope these five films featuring pantsless characters will get you in the spirit of commemorating yesterday's No Pants Day. But don't get too into the spirit—riding the subway without your pants on (especially the day after the official No Pants Day) is not recommended and may result in unfortunate consequences. Still, if you want to celebrate in your own way, take your pants off at home and enjoy!