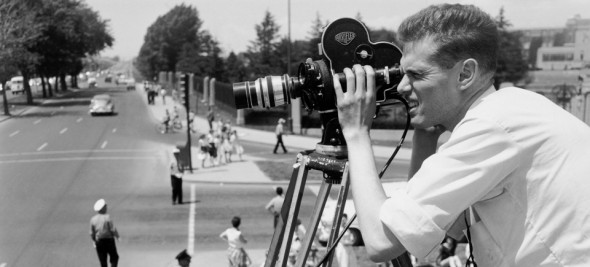 In memoriam: Wolf Koenig (1927-2014)
News
Filmmaker, producer, cinematographer, animator, and overall cinema pioneer Wolf Koenig passed away on June 26, 2014 at the age of 86. During a prolific career at the NFB, Koenig's films were lauded for their sophisticated style and what was often a subtle irony in their observation of human behaviour and modern society.
Koenig spent 47 years at the NFB, working on a variety of landmark projects, including Norman McLaren's Oscar®-winning Neighbours, on which Koenig was cameraman. Koenig designed the animation for Colin Low's The Romance of Transportation in Canada (1953), winning an award at Cannes. He was also the cinematographer for Corral (1954), Low's first documentary. The style of this film, with its poetic approach and absence of commentary, was a first in a Canadian documentary production.
Neighbours, Norman McLaren, Office national du film du Canada
Corral, Colin Low, Office national du film du Canada
Koenig was an influential member of the NFB's Studio B, which sought to interrogate conventional mid-20th-century filmmaking techniques and experiment with the aesthetic aspects of cinema. Along with other Studio B creators Roman Kroitor, Terence Macartney-Filgate, and Tom Daly, Koenig was responsible for a number of key works in the history of documentary film. He co-directed such classics as Glenn Gould – On & Off the Record, a candid portrait of the celebrated eponymous pianist, and Lonely Boy, a short documentary about pop star Paul Anka at the height of his fame.
Glenn Gould – On the Record, Wolf Koenig et Roman Kroitor, Office national du film du Canada
Lonely Boy, Wolf Koenig et Roman Kroitor, Office national du film du Canada
Koenig was also active in and praised for his advancement of the field of animation. The techniques he used in Universe (1960) influenced Stanley Kubrick's 2001: A Space Odyssey (1968), as Kubrick himself admitted. Koenig served as executive producer of the NFB's animation studio from 1962 to 1967 and again from 1972 to1975.
Universe, Roman Kroitor et Colin Low, Office national du film du Canada
Near the end of his illustrious career, Koenig worked as a producer on documentaries and animated films (The Great Toy Robbery, What on Earth), and perhaps most notably on Alanis Obomsawin's powerful and acclaimed account of the Oka crisis, Kanehsatake: 270 Years of Resistance. Koenig retired from the NFB in 1995. He has cemented a place in Canadian cinema history as one of the founders and innovators of film in this country.
Kanehsatake: 270 Years of Resistance, Alanis Obomsawin, Office national du film du Canada
If you'd like to hear from the man himself about his techniques and philosophies of filmmaking, check out this extensive interview.
Wolf was the son of the late Nathan Koenig and the late Ethel Handel Koenig. He will be remembered with much love and admiration by his brother Joseph (the late Miep de Zwarte), sister Rachel (Achille Byck), nieces Anne (Chris Peacock), Nina (Erik Eryavec), Debbie, Judy (Eric Mlyn), Sarah, and Susan (Stéphane Roy), grandniece Leah Mlyn, grandnephews Adam and Daniel Eryavec, Jonathan and Jeffrey Peacock, Noah Mlyn, Benjamin and Jacob Byck, Jeremy and Jonah Roy, second cousin Evelyne Haendel, goddaughter Amy Arioli, and friends.