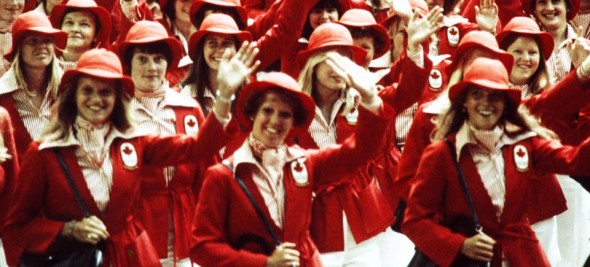 7 days, 7 films: celebrating Canada History Week
Films
Did you know that Canada Day marks the start of Canada History Week (July 1-7)? It's true! Canada's recent plans to raise awareness of Canadian history include the creation of the Canada History Fund, the Government of Canada History Awards and Canada History Week.
Well, if there's anything the NFB has a lot of in our archives, it's definitely Canadian history. Each of this week's 7 days has a theme: from museums to historic sites to Aboriginal peoples, you'll discover a new facet of Canadian history every day. And over on NFB.ca, our homepage will feature a different film every day that reveals these rich stories and histories. But you don't have to wait—check them all out right here!
July 1st: Discovering our National Museums
From the Royal Ontario Museum in Toronto to the Canadian Museum for Human Rights in Winnipeg to the innumerable national museums and galleries in Ottawa (the National Gallery of Canada, the Canadian War Museum, and the Canada Aviation and Space Museum are only a few), we're lucky to have such rich collections of art, artifacts, and histories in this country.
But what is a museum, anyway? Find out in this playful short animation in which a museum's residents come to life and tell their stories.
This Is Your Museum Speaking, Lynn Smith, provided by the National Film Board of Canada
July 2nd: Discovering our Historic Sites
The Battle of the Plains of Abraham was a decisive 1759 conflict in which France and England fought over possession of their respective colonized North American territories. The British victory was decisive, and within four years most of France's possessions in eastern North America would be ceded to Great Britain.
The Plains of Abraham are located just outside of what is today Quebec City, and the land has played host to many events over the past 3 centuries, from recreational leisure to hard-fought politics. My Park, My Plains is an amusing and informative documentary that explores the many histories of one well-known locale.
July 3rd: Discovering our Archives
The early 20th century filmmaker D.W. Griffith once predicted that the invention of cinema would one day provide us with an unquestionably 'correct' audio-visual archive of historical events. Instead of "wading laboriously through a host of books, and ending bewildered, without a clear idea of exactly what did happen and confused at every point by conflicting opinions about what did happen," he claimed, you would simply seat yourself in front of a screen and watch the truth of events unfold before your eyes.
Historical ambiguity? Problem solved!
Nowadays, of course, we know that's not exactly true. Two people watching a recording of a real event could form very different opinions about what exactly happened. But this is why revisiting our audio-visual archives is such a fascinating exercise. In Shameless Propaganda, filmmaker Robert Lower takes us on a tour through the NFB's WWII-era propaganda effort. The result is at times funny and at times quite disturbing.
Shameless Propaganda, Robert Lower, provided by the National Film Board of Canada
Want to know more about this fascinating film? Head over here for the details.
July 4th: People Shaping Canada
David Suzuki! Pierre Trudeau! …Justin Bieber?!
There are many whose lives and works have shaped what this country is today, and the list is no doubt long and varied. But, at some point, Canadians have come to agree that one name on the top of this list is that of the venerable Tommy Douglas. Often referred to as the "Father of Medicare", Douglas was a preacher, politician, and lifelong activist whose commitment to social justice, especially for the working classes, was unwavering. As premier of Saskatchewan from 1944 to 1961, his government was the first democratic socialist government in North America.
More than his impressive accomplishments, though, Douglas was a delightful character. Funny, easy-going, yet powerfully convincing when he needed to be, his oration skills and his people skills were both unrivaled. Get a glimpse of the man himself in this feature doc which profiles his life and career, and contains some candid interviews with Douglas himself.
Tommy Douglas: Keeper of the Flame, Elise Swerhone, provided by the National Film Board of Canada
July 5th: History Through Film
Drylanders was the NFB's first English-language feature-length fiction production. This riveting drama follows a Depression-era farming family as they leave the East Coast to try their luck in the prairies. The film adds drama and emotion to an era often referred to as the "opening of the Canadian West" (1870-1930), during which displacement and new immigration policies populated the prairies quickly.
Drylanders, Don Haldane, provided by the National Film Board of Canada
July 6th: Art and History
This day is for you, art lovers! Actually, I should say: "This day is for us!"
Canadian art has an incredibly rich history of creation and innovation, from the late-19th and early-20th century works of Emily Carr to contemporary Canadian artists making waves internationally like Shary Boyle, whose jarring and intricately-composed works represented Canada at the 2013 Venice Biennale. But our perhaps best-known export is the Group of Seven, whose early-20th century works represented this country's wild, natural landscape in all its splendour and savagery.
Varley offers a rare profile of Frederick Varley, a prominent Group of Seven member, as he gets ready to work in his studio.
Varley, Allan Wargon, provided by the National Film Board of Canada
Piqued your interest? You can read more about this film and related ones in this post.
July 7th: Youth and Aboriginal Experiences
The health of a child is the health of humanity's future, and yet, in the Yukon's Far North, where 280 Aboriginal people live in the village of Old Crow, the health of the children is being threatened by lack of resources and access to care. The rise in obesity, diabetes and delinquency rates underscores the extent to which health and social problems are linked. But in The Challenge in Old Crow, a resilient community takes a proactive approach to the problems plaguing their children: parents and other community leaders won't stand by while the younger generation suffers.
This touching documentary profiles a First Nations community whose resolve and resourcefulness are an inspiration.
The Challenge in Old Crow, Georges Payrastre, provided by the National Film Board of Canada
Thanks for celebrating Canada History Week with the NFB! Remember: our films are your films, and our shared history is what makes us a nation. Feel free to share your fave films online during this week of celebrating all things Canadian.
***
Header image from Games of the XXI Olympiade (1977)