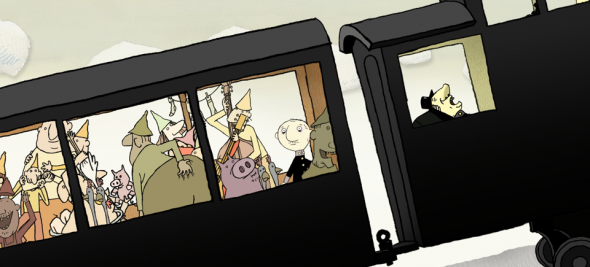 Download 5 Animated Films for $0.99 Each
Films
The 2015 edition of Get Animated! ends this weekend (Nov 15). If you haven't already taken a few minutes to watch our yearly offering of our recently released animated films, you still have a few more days to enjoy new films from filmmaking legends and emerging voices.
If you're an animation enthusiast and are already craving more films, enjoy a selection of 5 animated films—some showcased in previous editions of Get Animated!—that you can download for just $0.99 each!
The sale ends November 18.
My Grandmother Ironed the King's Shirts
Oscar®-winner Torill Kove's very first Oscar®-nominated animated film was this little gem about how her grandmother, and a seemingly simple ironing job, may have altered Norway's history during World War II. King Harald V (the reigning monarch of Norway) is on record saying: "I love the irony of this short."
Runaway
Join a train full of passengers as they celebrate and make merry, all the while ignorant of the fate that awaits them just around the bend in Cordell Barker's hilarious commentary on class struggle in today's society. Canuck composer Benoit Charest (Triplets of Belleville) gives the film a lively jazz soundtrack that gets your feet (and blood) pumping.
Here and the Great Elsewhere
Did you know the NFB has the only working Alexeïeff-Parker pinscreen in existence? That means filmmaker Michèle Lemieux is the only animator in the world creating films with this animation technique. In this film, Lemieux  contemplates everything from atomic particles and evolution to the mysteries of memory and death through four stunning tableaux.
From the Big Bang to Tuesday Morning
It's evolution like you've never seen it before! Zip through the history of life on Earth in just under six minutes with Claude Cloutier's absurdist ode to the creation of the universe to a regular Tuesday morning, with some surprising twists in between.
Gloria Victoria
Theodore Ushev focuses on the jarring relationship between art and war in his 2012 Annie Award nominated short that caps off his trilogy on the ideologies and aesthetics of the 20th century. The film flashes through combat fronts and massacres, all set to a stunning  a symphony that stirs the masses and mourns the dead.