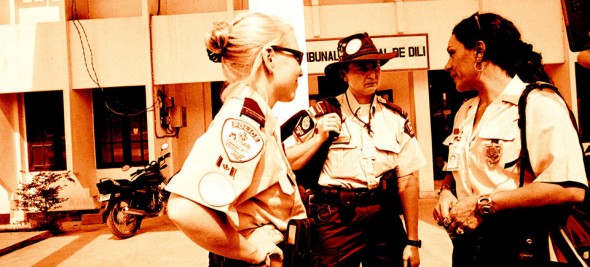 Canada Abroad: 4 films About Canada's Role in the World
Films
It is a well-known fact that our very own Lester B. Pearson came up with the concept of the international peacekeeping force during the Suez Crisis, while he was Secretary of State for External Affairs. As Sunday, May 29, is the International Day of United Nations Peacekeepers, I thought I would take the opportunity to discuss four important NFB documentaries that examine how Canada and Canadians have served communities around the world, in military and other roles.
Women on Patrol (2004)
Canada has long participated in United Nations policing throughout the world. When the UN called to set up an international police force in East Timor, Canada answered. The documentary Women on Patrol focuses on two women police officers, from Edmonton and Montreal, who join the United Nations Police Force in East Timor to help rebuild this beleaguered country. The two are assigned to the Vulnerable Persons Unit but, more importantly, serve as international role models for the women of East Timor. A fascinating film that shows Canadians making a difference.
Women on Patrol, Barry Lank, provided by the National Film Board of Canada
In God's Command (1995)
How do you cope when all you see around you is misery and horror? Canadian peacekeepers who try to protect civilians from getting slaughtered are often confronted with unimaginable situations. Many turn to the army chaplain for help in trying to deal with this onslaught of horror. In this documentary from the Protection Force series, we meet Captain Mark Sargent, the chaplain for the Canadian peacekeepers in the former Yugoslavia. He is there to lend a sympathetic ear to the members of his unit and help them navigate the maelstrom of emotions that come with seeing unspeakable brutality. He is also there to minister to the civilian population, who have come to rely on him. But who is there to help him when he has a crisis of conscience? This thoughtful film shows a side of peacekeeping that is very seldom seen. (The other films in the Protection Force series are also available: Caught in the Crossfire and The Price of Duty.)
In God's Command, Garth Pritchard, provided by the National Film Board of Canada
Kosovo: Fragile Peace (2002)
How do you set up democratic elections in a country without a central government, coming off a bloody war? It certainly isn't easy. Canadian lawyer Carolyn McCool is in Kosovo as part of an international peace-building mission, attempting to set up elections in just six weeks' time. She is joined by her 20-year-old daughter, Kate, who is reaching out to the young people of the country, trying to create grassroots support for the election. The country is administered by the U.N., so it is imperative that the population buy into democratic ideas of government—and absolutely essential that everyone participates.
Kosovo: Fragile Peace, Moira Simpson, provided by the National Film Board of Canada
Good Morning Kandahar (2008)
This documentary focuses on Afghan Canadians who are struggling to come to terms with their adopted country's military mission in their home country. Rana FM is a radio station created by the Canadian Forces that broadcasts throughout Afghanistan from its secret location in Kingston, Ontario. The Forces are targeting 18-to-25-year-old Afghanis, the people who will rebuild the country and who aren't necessarily stuck in old ways of thinking. Manned exclusively by young Afghan Canadians, the station broadcasts news, music, and modern Afghan pop culture to its target audience. According to the station's director, they are not broadcasting propaganda, but trying to change people's mindset by suggesting new ideas. The staff, who have become stars in Afghanistan, are happy to bring a few moments of pleasure to their brothers and sisters, navigating the chaos of a country trying to rebuild after the brutal Taliban regime.
Good Morning Kandahar, Ariel Nasr, provided by the National Film Board of Canada
Four portraits of Canadians making a difference in the lives of others around the world. Enjoy the films.