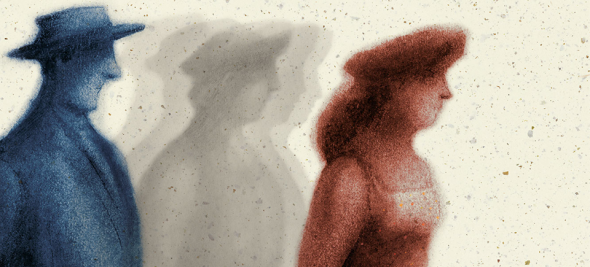 The NFB in Annecy | The Lakeshore Awash with Talent!
*  This is a translated guest post by French Animation Studio executive producer Julie Roy. Read the original French post here.
I have been participating in the Annecy International Animation Film Festival for the last 15 years or so. This annual gathering of the global animation family really is not to be missed. Every year, we feel the same feverishness leading up to the festival and the same excitement about presenting our works to this special and demonstrative audience! Between the many screenings, business meetings and festive cocktails, the most intense moments are always those when the NFB logo appears on the giant screen in the big theatre, when our film is no longer completely our own and when I try to keep my nerves in check alongside my filmmaker!
This year, we will be sharing these hopefully dazzling moments with Theodore Ushev, Janice Nadeau, Franck Dion and Ann Marie Fleming!
France will be the country of honour throughout the week this year and it's perhaps an interesting coincidence that our three filmmakers selected in the short-film competition—Theodore, Janice and Franck—all worked on their films, in whole or in part, in France. These three filmmakers have something else in common too: they have all built a special relationship with the Annecy festival through their works.
And so, Franck Dion found himself in Haute Savoie with his film The Head Vanishes, coproduced by Papy 3D, Arte and the NFB. I was delighted to work with this highly talented artist for a second time after he and I co-produced Edmond Was a Donkey, which won the Special Jury Award at Annecy in 2012. Franck is an excellent example of what I mean when I talk about a special relationship with the festival. In fact, all his films have been selected for the official competition! Before his two most recent works, it was The Phantom Inventory in 2004 and Mister Cok in 2008.
Like Franck, Janice also has a special relationship with the Annecy festival. An emerging animation filmmaker, she has made two films and both have been selected for competition! Her first short, No Fish Where to Go—co-directed by Nicola Lemay—won the Fipresci Award in 2014. Mamie, which she is screening this year, seduced France very early on; after participating in a project contest put on by Annecy's former Creative Focus, Folimage quickly expressed interest in coproducing the project with the NFB. And so, Janice worked in France a few times, first in Abbaye de Fontevraud during the research and writing phase and then in Valence to work on the animation of her film with the Folimage team. One could say that Janice has truly made a grand entrance into the world of animation!
Theodore Ushev is another regular at the festival. Most of his films have been screened there, and he received a special mention for the Lipsett Diairies in 2010 and the Fipresci Award for Gloria Victoria in 2014. Started as a coproduction with the French production company Les 3 ours (which ceased its activities in fall 2014) then completely taken on by the NFB, Blind Vaysha was partly developed in Abbaye de Fontevraud. I must point out that Theodore is not just supported by Annecy, but he is one of the great stars of animation worldwide and we are thrilled that he is part of our NFB community!
Also worth mentioning is the fact that this year, the NFB will not shine solely in the selection of short films. In fact, filmmaker Ann Marie Fleming is screening her feature-length film Window Horses, coproduced by the NFB and Stickgirl Production. Famous Canadian actress Sandra Oh is among the cast. And Munro Ferguson will present his project Minotaur as part of a virtual reality event.
A jam-packed festival awaits us once again this year. I have to say that it is extremely revitalizing to participate in this huge animation gathering. It helps us appreciate how privileged we are to have a Canadian institution like the NFB, which is envied and admired by animators worldwide. And rightly so: in the last seven years at the festival, in other words from 2009 to 2015, the NFB has won at least one award every year for a total of nine awards throughout this period! We are the only producer of short animation films in the world to achieve such a showing at the most prestigious animation festival! Definitely something to be proud of! And this is what we will be celebrating from June 13 to 18, lakeside, surrounded by magnificent mountains and a wave of animated talents!
In short, the NFB's presence at Annecy this year is very meaningful in the context of our creative relationships. It highlights our national and international coproduction activities with production partners such as Papy 3D, Folimage and Stickgirl Production. It puts the spotlight on our policy of supporting filmmakers with the presence of Theodore Ushev, for example, with whom the NFB has produced a dozen works since 2006. It also shows our openness to a new generation of animation filmmakers of which Janice Nadeau is a part. It affirms the place we give to female filmmakers with the presence of Janice Nadeau and Ann Marie Fleming. It showcases the ever-innovative nature of the NFB and its cutting-edge role in new technologies such as virtual reality.