gifts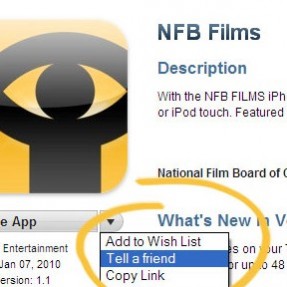 Ever since yesterday, iTunes lets you send apps to friends as gifts - but since our NFB Films iPhone app is already free, you can "Tell a Friend" about it . You know those friends that roll their eyes whenever you tell them how incredible...
Julie Moulden at the Huffington Post has put together this year's Top 10 New Radical Gifts. According to her, "New Radicals" are people who are putting the skills they acquired in their careers to work on the world's greatest challenges. Under the heading of...
The holidays are just around the corner and bloggers everywhere are compiling their top 10 lists. Art Threat, a blog about politics and the arts, included two NFB titles among their favourite things. Both Norman McLaren – The Master's Edition and Roadsworth: Crossing the Line...