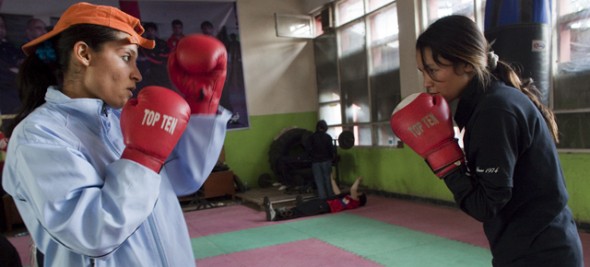 Great Fall for Film in Canada's Public Libraries
News
The NFB Film Club has just announced its autumn program and it looks like libraries from coast to coast are poised for a fun and film-filled fall.
The Film Club is a program that make the NFB's film collection accessible to Canadian public libraries. For Fall 2012, it is offering an exciting selection of documentaries and animation films, including 4 programs aimed at the general public and 1 for children. All screenings are free.
The first program explores the lives of women artists. The Mystery of Mazo de la Roche, directed by Maya Gallus, is a portrait of one of the 20th century's most prolific, successful and mysterious writers, while director Jill Sharpe's Bone Wind Fire offers a journey through the lives of Georgia O'Keeffe, Emily Carr and Frida Kahlo—3 of the 20th century's most remarkable artists. See the clips below for a taste.
October is Breast Cancer Awareness Month. In Pink Ribbons, Inc., director Léa Pool looks at how the devastating reality of the breast cancer has been overshadowed by the success of the famous pink ribbon. This acclaimed documentary is screening alongside Tabitha Fisher's short film Missed Connection, a product of the 7th edition of the NFB's Hothouse program for up-and-coming animation filmmakers.
The Boxing Girls of Kabul, directed by Ariel Nasr, tells the stories of a remarkable group of young Afghan women who hone their boxing skills without the benefit of even the most basic facilities—and who face persecution while dreaming of a shot at the 2012 Olympics. It screens with Imaginary Heroine, a short by Sherry White based on characters created by Mary Walsh, Newfoundland's grand dame of comedy and recipient of one of the 2012 Governor General's Performing Arts Awards.
Surviving Progress, by Mathieu Roy and Harold Crooks, features prominent thinkers, activists, bankers and scientists who challenge us to rethink "progress-as-usual." The documentary will be shown with Theodore Ushev's animated short Drux Flux, an animated short that addresses the ideological excesses of the 20th century.
Children will love the selection of animated shorts, including both new films and NFB classics: Rose & Violet, directed by Claude Grosch and Luc Otter; Nébule by Bernard Longpré; Gayle Thomas's The Magic Flute, and The Sound Collector, by Lynn Smith.
The Sound Collector, Lynn Smith, provided by the National Film Board of Canada
Meet you at the library!
To learn more about the NFB Film Club: Marianne Di Domenico | 514-283-8953 | m.didomenico@nfb.ca