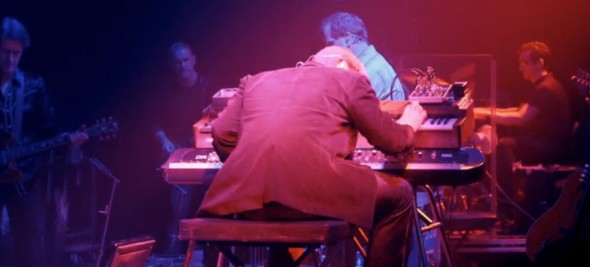 Watch 8 short films honouring the 2014 Governor General's Performing Arts Awards laureates
News
Every year, the NFB produces a series of short films in which some of this country's greatest performing arts stars and champions are profiled as they are awarded a Governor General's Performing Arts Award, an annual honour presented in collaboration with the National Arts Centre. From Blue Rodeo to Tom Jackson, this year's laureates prove once again that there is an abundance of inspiring talent across this great country of ours.
But these short films aren't your everyday biographical docs; they're a testament to the talent both in front of and behind the camera. Some of our best and brightest Canadian filmmakers and producers have taken on the task of creating thoughtful, intimate, and occasionally quite funny portraits of their subjects (check out 2013's Canadian Famous for a laugh). The 2014 films have just been released online on NFB.ca and you can peruse them below.
Blue Rodeo: On the Road, Millefiore Clarkes, provided by the National Film Board of Canada
Everyone's favourite country rock band occupies a truly special place in Canadians' hearts. This short doc follows the beloved band on the road as they play to rapt audiences whose facial expressions say it all: these familiar tunes are a warm memory for all who ever heard them.
Brent Carver: Home Through the Night, Tim Southam, provided by the National Film Board of Canada
A master of performance on both stage and screen, Tony-award winning actor Brent Carver combines his passions for acting and singing in this sparse yet moving short film. With nothing but a stage and a solitary lightbulb, Carver demonstrates how his captivating presence and performance have the power to light up a room.
Play, Hubert Davis, provided by the National Film Board of Canada
This "playful" short presents a portrait of acclaimed actor and director Albert Shultz, recipient of the National Arts Centre Award, which recognizes work of an extraordinary nature by an individual artist or company in the past performance year. In the film, Shultz and his associates from the acclaimed Soulpepper Theatre company discuss collaboration, artistic freedom and the ability to "play".
Ballads Not Bullets: Tom Jackson, Marie Humber Clements, provided by the National Film Board of Canada
Most easily recognized as an actor, Tom Jackson is also a singer, producer, and activist who has worked tirelessly to fight poverty and homelessness. This short film tells the story of how Jackson came to use his gift for song as a tool of social justice. Intercut with archival footage and stylized street scenes, the film offers a portrait of a multitalented man with a strong social conscience.
Jean Giguère: The Measure of a Place, Deco Dawson, provided by the National Film Board of Canada
A lifelong volunteer for and champion of the arts, Jean Giguère knows the power of art to transform communities and lives: she has witnessed it firsthand. Director Deco Dawson lends a dreamlike quality to this portrait of Giguère, as her biography transforms into a delightful pop-up storybook.
Anik Bissonnette: The Gift of Dance, Philippe Baylaucq, provided by the National Film Board of Canada
An iconic and inventive ballet dancer, Anik Bissonnette is now, like her mentors before her, teaching the rigorous fundamentals and secrets of movement that underlie her art. Featuring footage shot inside the esteemed École supérieure de ballet du Québec, this short film offers a portrait of a dancer and a teacher, one whose commitment to her community and her artform will be felt for generations to come.
Louise Lecavalier: Body Speech, Philippe Baylaucq, provided by the National Film Board of Canada
Louise Lecavalier's talent has awed audiences worldwide, especially in her long collaboration with the famed La La La Human Steps company. In this short film, we follow her as she dances in her rehearsal studio, at once tracing the steps of her memories, her life, and her work. The language of Lecavalier's body communicates the journey of a fiercely independent artist who is always moving forward, and who has remained in perpetual motion for 30 years.
Janine Sutto: 70 Years of Passion, Michel La Veaux, provided by the National Film Board of Canada
Paris-born, Montreal-based actress Janine Sutto has been the grande dame of Quebec theatre for decades. In this short film, Sutto's particular talent for portraying life is brought to the screen. A slight woman with incredible vitality, Sutto's enthusiasm for life, art, and performance is infectious and inspiring.
Celebrating Canadian art
Whether you're an artist yourself or simply a fan, these films cannot fail to inspire and entertain you. We invite you to share your favourite films on your networks, and we send heartfelt congratulations to all of this year's laureates!
For more information about the Governor General's Performing Arts Awards, click here.
***
Header image: still from Blue Rodeo: On The Road.