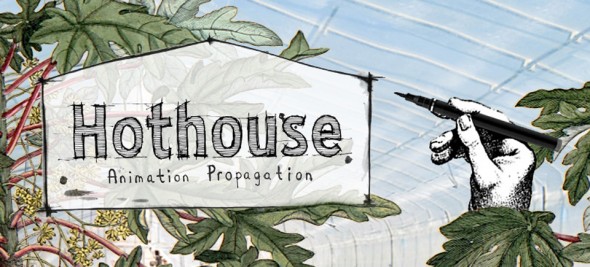 Listen up, emerging animators: now's your time to shine in the 10th season of Hothouse
News
Production
Got the animation itch? Now's your chance to scratch it: we're seeking submissions from emerging (young and not-so-young) Canadian filmmakers and artists intrigued by animation art for the 10th anniversary edition of Hothouse, a 12-week paid apprenticeship in full-on, all-inclusive, real-world animation filmmaking.
The details
Application Deadline: Monday July 7, 2014
Program Dates: September 8 – November 28, 2014
Theme: Overheard
Mentoring Director: Chris Landreth
Oh, sorry, did your eyeballs just pop out of your head? Yes, that's the Chris Landreth, the acclaimed Oscar®-winning filmmaker behind Ryan and Subconcious Password. You can learn more about Chris Landreth on his official website.
The theme
And what about that intriguing theme ("Overheard")? The organizers of this year's Hothouse program have trolled through a wealth of archives and discovered 20 audio clips that are unusual, unnerving, or somehow full of subtext and hidden meaning. Applicants will select one clip and tell us how they will visually interpret the unscripted found sound to comment on or play with the original meaning. Click here to discover the raw audio files you'll work with.
The history
A plethora of emerging talent has been developed through the annual iterations of Hothouse. In fact, we've got a delectable playlist of the best and brightest films produced through Hothouse right here. Check out Candace Couse's Sick to see what kind of outside-the-box thinking takes place in this annual creative laboratory.
Past Hothouse alumni include such distinguished filmmakers as Patrick Doyon, nominated for an Oscar® for his NFB animated short Sunday, and Howie Shia, whose NFB short Flutter received the Open Entries Grand Prize at the Tokyo Anime Awards.
For the first time, two emerging animators from Mexico will join the six Canadians selected for Hothouse this year, thanks to a partnership with the Instituto Mexicano de Cinematografía (IMCINE), Mexico's public film institute.
The criteria
Submissions must be received by 5pm (Montreal time) on Monday July 7, 2014 and must be sent via email (no snail mail submissions will be accepted). The six successful candidates will be notified by Friday July 25, 2014.
Your proposal must be based on this year's theme and one audio selection from the options provided. You are free and expected to be imaginative and bold in how you interpret the sound.
The fine print
For details on eligibility, techniques and technologies, evaluation criteria, a complete list of submission materials, and other important instructions, rules, and regulations, please refer to the Hothouse call for proposals and read the material carefully to make sure you meet all requirements.
The final word
Check out an array of blog posts that will give you a bit more insight about what kinds of fun, frantic, and fearless creation goes on during the Hothouse residencies each year. Hopefully, you'll be inspired to put together your best work yet!