One year after putting NFB films online – Here are the stats…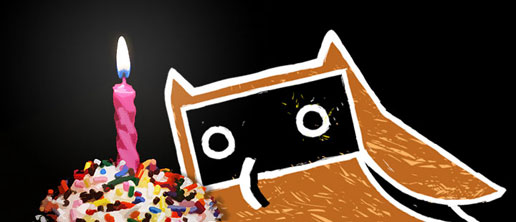 What an amazing year it has been for the NFB. It's been exactly one year since we launched the NFB Screening Room – we wanted to make the NFB more accessible to Canadians and the world and the response has been overwhelming and exceeded our expectations in every way.
Since the beginning, our philosophy has been to try to be open, transparent and accessible wherever we could. Not only does that mean making our films free to the public – but it also means opening the way we work. Using open source software, sharing code that we develop and participating in conversation wherever you want to participate.
Part of this "opening the NFB", also means sharing our statistics. We want filmmakers (and the film industry in general) and the Canadian public to see these stats and possibly benefit from them.
Here they are…
Total Film Views on NFB.ca (Jan 2009-Jan 2010)
* 3.7 million total online film views since we launched a year ago
* 2.2 million online film views in Canada (59% of views)
* 1.5 million views International (not including Canada) on the web
* Total international views: 1.45 million views
* Total views: 3 768 628

Film Views on iPhone App (Since October 21 2009)
* 396, 190 views on iPhone in Canada
* 131, 332 views on iPhone outside Canada
* 527, 522 Total film views on iPhone
* Total number of apps downloaded: 171 271

Growth of Viewership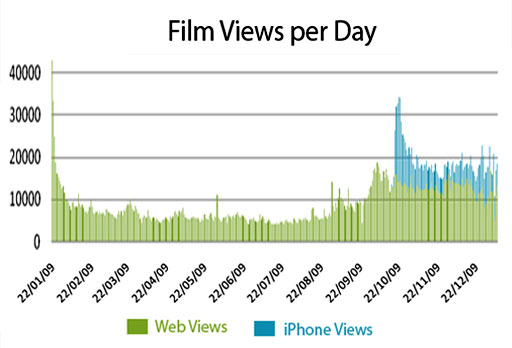 * We grew from an average of 3,000 film views per day (Jan '09) to over 20,000 film views per day (Jan '10).
* As you can see in the above graph, the release of the iPhone app increased our view numbers on the web too
* Our content library grew by nearly 1000 videos this year – from 500 films, clips and trailers when we launched to nearly 1500 today.
The 10 most popular films on the site this year (Note the running times for each film).
A Sunday at 105, (13:20) 155,183 views
The Cat Came Back, (7:41) 87,735
Carts of Darkness, (59:34) 82,230
The Log Driver's Waltz (3:00) 71,148
The Sweater (10:21) 39,404
The Big Snit (9:54) 39,161
Ryan (13:57) 37,371
RiP! A Remix Manifesto (Chapter 1) (5:23) 37,212
Hitman Hart: Wrestling with Shadows (93:33) 34,937
How to Build an Igloo (10:32) 30,996
When are People Watching?
We were shocked to see that most of our traffic is actually evening / prime time viewership. Our site seems to be competing with what most people consider to be TV time. Here's a graph of our viewership throughout the day:

NFB and Social Media
Our community had a lot to say in 2009 – and we took part in the conversation wherever we could.
* We have about 3,500 "fans" on Facebook.
* We have 19,000 subscribers to our YouTube channel.
* We have over 12,000 followers on Twitter (10.3k @thenfb, 1.7k @onf); the #1 documentary Twitter account on WeFollow
* Here's what they said on Twitter:
"Greatest app on iTunes! Thank you NFB!"
– @kipguenther
"The new NFB iPhone App is the best thing I've ever installed on my iPod Touch — THANK YOU!"
– @copetoons
"Awesome resource for all things documentary." – Fast Company
* Here's a comment from iTunes:
Proud to be Canadian
This is THE most awesome app. The NFB has done a great job and have updated with items that users have requested – more than I can say for some apps that I paid for! It is amazing how you can feel like a kid with some of the classics – Log Drivers Waltz always puts a smile on my face. Finally my tax dollars well spent. Keep it up NFB!
User Review – Tikkaboo)
* We were also honoured to win a couple awards this year. We won:
Best Online Video Portal, 2009 Canadian New Media Awards
Grand Prize for Arts & Culture websites, Boomerang Awards
Thank you Canada for a great year!
We hope you find these stats useful or interesting. If you have any comments or questions about other stats, please let us know in the comments below!