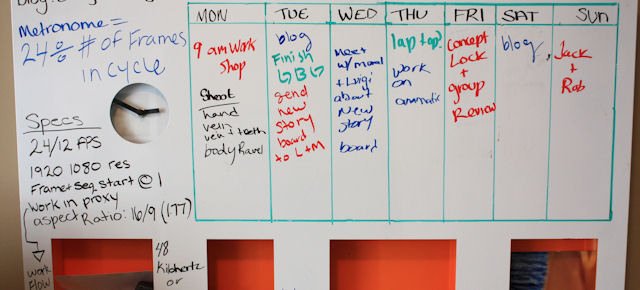 The following is a guest post by Candace Couse.
Here is a photo of my whiteboard. It is a useful tool but it sometimes lulls me into a false sense of order and control. Though, I must say things have been going very smoothly so far. I have been waiting for a package from the NFB that contains a Canon 5D camera + lens, tripod, a UPS box (which I'll plug all important electronics into to be safe from electrical surges and to stabilize flicker) and Dragon software.
I woke up this morning feeling slightly under the weather, so it soon became very easy to convince myself that there was nothing I could possibly work on until my packages arrived. Evidently, I felt my time would be much better spent lying around the house.
My plans were thwarted shortly before 11:00am when the FedEx guy showed up with my packages. This is when I came to an important conclusion: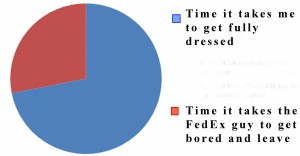 I decided it would be in my best interest to meet somewhere in the middle.
You're welcome, FedEx man.
Anyway, I had better get going as I have equipment to unpack. Bye for now!