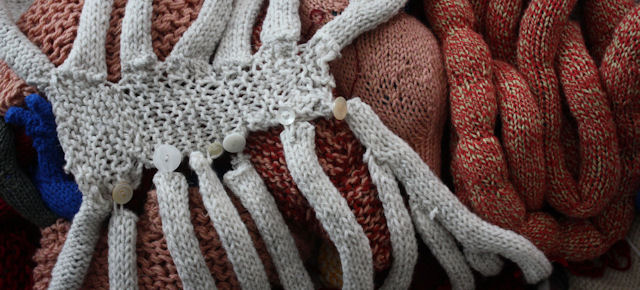 Hothouse 7: Knitting With Acid
The following is a guest post by Candace Couse.
Yesterday's meeting with Jelena (Hothouse Editor) went really well. She had some fantastic advice which will be really helpful in structuring the layout of the film. We are so lucky to be able to work with such great people at the NFB!
Today I'm going to be working on the stomach set. We have an online test later this week that I hope to have this scene submitted for.  The online monitor will help us catch any problems with colour palette, textures, noise, gradient, line quality, colour temperature, flicker, etc.
I've had some trouble trying to locate LED light panels, but eventually managed to track some down. The NFB is currently trying to work out an arrangement with the light people. My hopes of having the lights in time to shoot an online test are becoming slimmer and slimmer.
Even without the lights I'm determined to have something for the test, however, shooting with improvised lighting will mean that any results relating to colour palette, some textures, and flicker will either be hypothetical or inappropriate.
Yeeeesh!
Well, I'm off to knit some more stomach acid. In the mean time, here is a bit of a  preview of a knitted foot without skin: