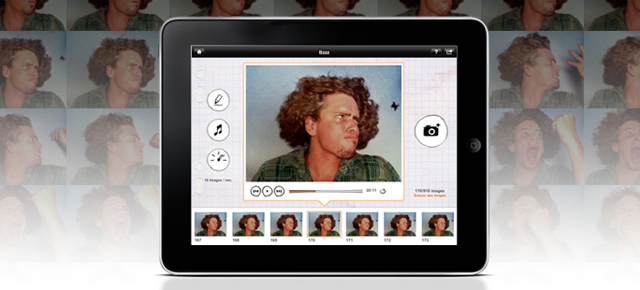 Want to create stop-motion films? We made an app for that!
There's just no stopping the NFB's web developers. Hot on the heels of the NFB Films iPhone, iPad, Android and PlayBook mobile apps, our devoted developers has come up with PixStop, a fresh new app that enables you to make stop-motion films on your iPad 2. Designed to capture as many as 10,000 images, Pixstop allows you to create mini masterpieces up to 13 minutes long. Excitement!
Pixstop was originally designed for our education clientèle (NFB/education). What this means is that the app is user-friendly enough to be used in classrooms, by school-aged children.
This is no limitation on the app's potential, however, as the 2 clips (below) amply demonstrate. The first was made by NFB Hothouse alummus/full-fledged animator Sylvie Trouvé (director of the well-loved Orange); the second is a "test" our colleague, the multi-talented Mivil Deschênes, made while fooling around with the app at his house. (The song Mivil used is "Distant Faces" by the Montreal group Solids.)
Pixstop is available on iTunes. The app is free in Canada; $2,99 elsewhere.
Have fun!