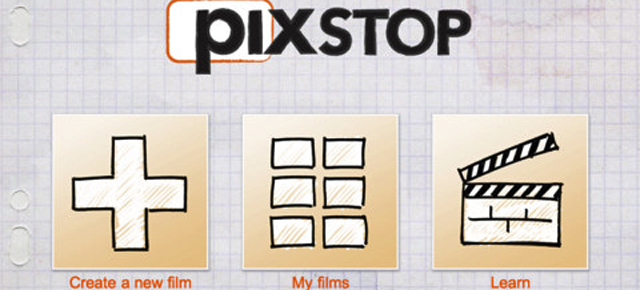 NFB's PixStop app for the iPad 2 – Your classroom's "mobile studio"
The following is a guest post by Kathy Sperberg.
If you had told me when I was growing up that learning could happen with the touch of a finger instead of pencil to paper with a fat eraser at the ready, I would have laughed it off as fantasy. But then again, I'm an analog purist and had a hard time making the switch from my beloved rotary phone to a touch tone. So let's just say I'm an analog purist yet a defiant digital enthusiast—and there is no better time to embrace the digital realm than now. Within the education landscape there is no lack of creativity; diverse approaches to learning and devices designed to motivate students to reach their creative potential are proliferating at a feverish rate. NFB/education joins in this mobile learning culture.
The NFB's recently launched PixStop app, designed for the iPad 2, allows your students to create their own short stop-motion films with ease and fluidity, and helps you integrate the films into classroom curriculum. PixStop is an intuitive learning tool with kid-friendly interfaces, and it's easy-to-use for ages 10 and up—but even better: you can download PixStop from your iPad 2 for free!
So why mobilism in the classroom through the NFB? It started with one word: accessibility.
Inspired by our ever-popular onsite workshops, offered at both the Mediatheque in Toronto and the CineRobotheque in Montreal, we wanted to broaden the workshop experience to every nook across of Canada and provide educators and students with a mobile learning environment, a creative outlet that encourages digital literacy and participatory learning.
If you're an educator who's excited about integrated and connected methods of teaching, PixStop can serve as an instigator to creative inquiry that can be applied to a cross-section of studies, including Visual Arts, Math, Science, Geography, History, Social Studies and Language Arts, among others. PixStop includes three short instructional videos on the principles of stop-motion and a sample film, Buzz, to further inspire you.
PixStop is a "mobile studio" that can foster learning through stop-motion animation. Portable with integrative possibilities, the app encourages students' digital competencies in using technology effectively to problem solving, communicating and working collaboratively. You can have your students work in small teams, assigned to different production roles and taking turns at shooting with the iPad 2. The app reinforces students' abilities to harness media production skills and highlights media literacy in the process.
PixStop has the ability to take up to a whopping 10,000 images (up to 13 minutes' runtime), but you can shoot shorter clips and tie them in with any classroom topic, for example, using recycled objects to address environmental issues, refine storytelling skills and animate scientific processes, or challenge your students to create short 15- to 30-second clips on a theme, such as Earth Day or Black History Month.
Watch Buzz, a short film that will inspire your students, and discover, frame-by-frame, just how many images it takes to create a stop-motion short. Of course, Buzz was created by a professional animator, but it demonstrates the limitless possibilities of PixStop. Everyday objects were used and all special effects, like the character's face turning red when he's angered by a determined fly, were created with makeup in real time—all effects in-camera without post-production software. You can also view a selection of other stop-motion animation films from the NFB's renowned collection on this playlist.
Students can create their own soundtrack to enhance their piece using their iTunes account, and you can use this feature as an entry point to a discussion about working with sound and copyright.
Have your students share with their classmates, school-to-school, with their parents and the world by exporting their short films and mini-oeuvres via e-mail, YouTube or Facebook. Take it even further and create your own mini stop-motion film festival within your school.
Keep coming back to the NFB's Education Blog to learn about how teachers are using the PixStop app in the classroom.
And there's more. To complement the PixStop app, NFB/education developed a comprehensive online workshop called StopMoStudio. Stay tuned for more about this exciting initiative.
Less is (not) more. There's always more.