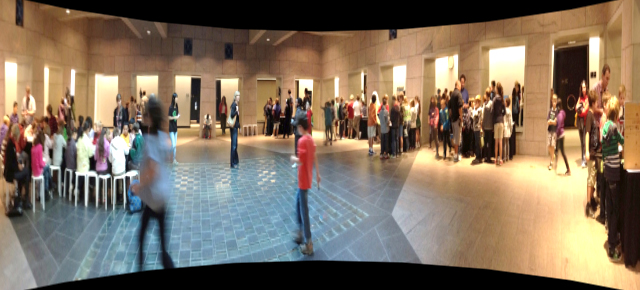 NFB Animation Workshops at the 2012 Ottawa International Animation Festival
This is a guest post written by Anne Koizumi and Fouad Sassi, Education Specialists and Workshop Facilitators at the National Film Board of Canada in Montreal, QC.
On September 19, NFB Education Specialists Fouad Sassi and Anne Koizumi filled a mini-van with NFB animation equipment and headed off to meet a crowd of over 450 students at the Ottawa International Animation Festival (OIAF), held at the prestigious National Gallery of Canada. Here, Anne and Fouad tell us how it went.
As new members of the NFB Education Team, this was our first road trip and off-site workshop. We were both excited to get out of the office and onto our feet to talk to students about the NFB and its resources and, of course, give them hands-on animation workshops. We had prepared 3 activities that would allow students to experience various animation techniques that have been practiced at the NFB since the opening of our animation studio in 1941.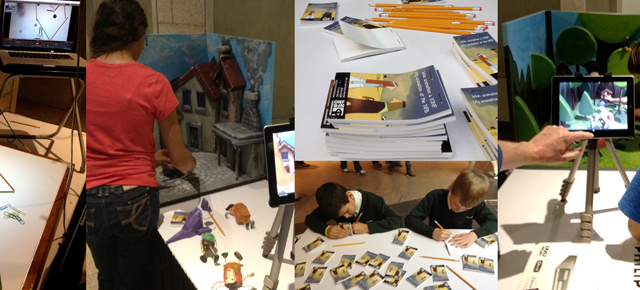 The first animation station showcased the NFB's free stop-motion iPad 2 app, PixStop. It's a great way for any teacher with an iPad 2 to introduce students to stop-motion animation in the classroom. PixStop is so easy to use that the students in Ottawa learned how to operate the software within minutes. We brought 3 of our puppet animation sets, so that students could make their own stop-motion puppet animation. They created stories, directed, animated and ran the software themselves. Great team work, everyone!
The second animation station was the traditional flipbook. This animation technique is used in our very own Norman McLaren animation workshop, offered year-round in the NFB Toronto and Montreal offices. While making a flipbook, students learn the basic principles of animation by applying the concepts of image repetition, small changes to the images, and the final component of speed. This technique is classic, but it never gets old. The students really immersed themselves in the animation concepts and made some very original flipbooks.
Lastly, we featured found-object stop-motion animation workshops. We thought this would be a great way to show kids that you can bring anything to life! Applying this technique, you can use an array of items—from paperclips to buttons—to create your own unique style of animation. The students jumped right in!
With over 450 students in attendance, we saw a lot of creative juices flowing, and some incredible on-the-fly animation being made. It always amazes us to see what students can create with very brief instruction, and in such a short amount of time. Way to go Ottawa! We hope to see you again soon.
For more information on how to use PixStop in your classroom, click here.
Special thanks to OIAF Artistic Director Kelly Neall, OIAF 2012 Volunteers and Cecilia Ramirez, Manager, Partnerships and Events at the National Film Board of Canada.
Photos by Fouad Sassi