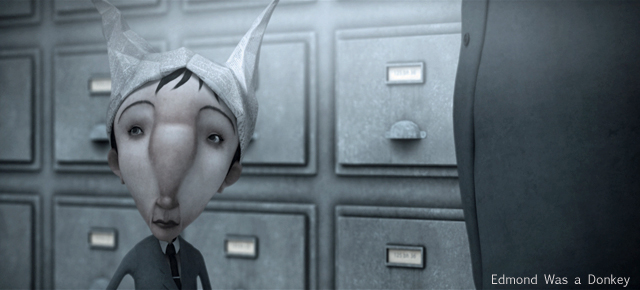 Enjoy Free Animation Films and Workshops Across Canada Starting October 26th
The NFB is launching the 6th edition of Get Animated!, bringing many of the country's finest and funniest animated films to communities across Canada in celebration of International Animation Day (October 28.)
Taking place this year from October 26 to November 10, Get Animated! will bring the magic of animation to over 30 centres, in every province and territory, with screening programs for audiences of all ages, workshops and more. And it's all absolutely free!
Get Animated! is coming to a location near you, in:
Abbotsford, BC (October 27 & 30)
Calgary (November 2 & 4)
Charlottetown (November 2 & 4)
Edmonton (November 7)
Flin Flon (October 28)
Halifax (October 26 & 27)
Iqaluit (November 8 )
Miramichi, NB (October 28)
Moncton (October 27 & 30)
Montreal (October 27)
New Westminster (November 7 & 8 )
Prince George (November 2 & 4)
Regina (November 2, 3 & 10)
Richmond (November 4)
St. John's (October 27, 28 & 31)
Saskatoon (October 29, 30 & November 1)
Stephenville, NL (November 4)
Tatamagouche, NS (October 28 )
Toronto (October 27 & November 1)
Vancouver (October 27 & 31)
Victoria (November 7)
Whitehorse (October 28)
Windsor (November 3 & 4)
Winnipeg (October 26 & 27; November 2–5)
Yellowknife (October 29)―and more!
Get Animated! is presented by the NFB in collaboration with local partners across Canada. For a complete and up-to-date schedule of screenings, visit nfb.ca/getanimated.
Get Animated! programs New Releases
The New Releases program features a dazzling selection of the NFB's most acclaimed international co-productions, created by many of the world's top animation directors.
Highlights include Georges Schwizgebel's Genie Award-winning Canada-Switzerland co-production Romance; Franck Dion's Canada-France co-production Edmond Was a Donkey, winner of a Special Jury Award at the Annecy International Animation Film Festival; Régina Pessoa's Kali the Little Vampire, a France-Canada-Portugal-Switzerland co-production, recipient of the Hiroshima Prize at the Hiroshima International Animation Festival; Oscar nominee Paul Driessen's latest NFB short, the Canada-Netherlands co-production Oedipus; and Polish filmmaker Kamil Polak's international co-production The Lost Town of Switez, winner of 10 awards.
Family Program
Get Animated! also offers kid-friendly animation fun for all.
The "Not So Scary Stories" program of animated films features Lynn Smith's The Sound Collector, the quirky tale of a 6-year-old who collects sounds, along with Antoine Lanciaux and Pierre-Luc Granjon's colourful and charming fairy tale Bonifacio in Summertime—perfect films for children ages 5 and up.
"Friends and Monsters" is ideal for the 10+ crowd, with Catherine Arcand's Nightmare at School, a humorous look at the unsettling experience of being in a new school, Claude Grosch and Luc Otter's Rose & Violet, about a very unusual set of twins, and Paula Gillgannon's vignette The Big Swing, from the NFB's renowned Hothouse program for young animators.
Workshops
Hands-on workshops will accompany the Family Program in a number of Canadian cities, giving participants the thrill of being part of an animation film crew while making their own short film.
Workshops in Toronto and Montreal on October 27 will feature puppet animation, with participants invited to bring costumes and story ideas. To register for the Toronto workshop, or for more information, call 1-800- 267-7710; for the Montreal workshop, call 514-283-9000. Both workshops include a half-hour program of animated short films. Workshops are offered in English or French, based on demand. Pre-registration is required for the workshop; screenings are open to everyone. For complete info on these and other Get Animated! workshops, visit nfb.ca/getanimated.
Industry Events
Get Animated! will include free events for animation filmmakers and students―however, these industry events are open to the public, too.
Highlights will include a presentation about the NFB's Hothouse program by producer Michael Fukushima and industry panels led by Animation Studio executive producer Roddy McManus. List of industry events:
Panel discussion with Roddy McManus: Carbon Arc cinema (Halifax, October 27, 3 p.m.)
Hothouse presentation with Michael Fukushima: Emily Carr University of Art and Design (Vancouver, October 31, 11:30 a.m.)
Panel discussion with Roddy McManus: OCAD University (Toronto, Nov. 1, 6:00 p.m.)
Panel discussion with Roddy McManus: ACAD (Calgary, Nov. 2, 1:00 p.m.)
Industry presentation with Roddy McManus: Université St-Boniface (Winnipeg, Nov. 5, 10 a.m.)
Industry presentation with Roddy McManus: Winnipeg Cinematheque (Winnipeg, Nov. 5, 7 p.m.)
Visit nfb.ca/getanimated for details.
About International Animation Day
International Animation Day, October 28, is an annual celebration in over 40 countries, initiated by the International Animated Film Association (ASIFA) in 2002. Norman McLaren was the first president of ASIFA, and the NFB is proud to be bringing this global celebration to Canadian communities for the 6th consecutive year.