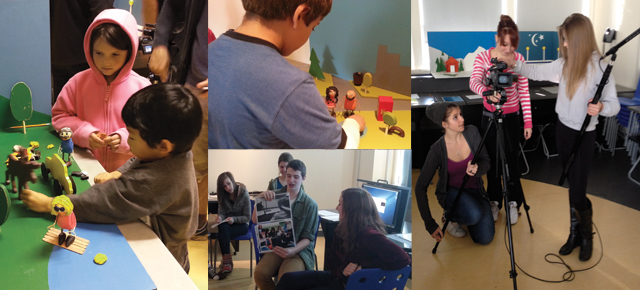 New Montreal Educational Workshop Studios Now Open!
By Estelle Lagueux, Supervisor, Educational Programs
It was with nervous anticipation that the NFB's new educational programming team recently welcomed its first group of students to a freshly redesigned space at our operational headquarters in Montreal's Saint-Laurent borough.
The young people said it was inspiring to find themselves in the same building where so many filmmakers and film artisans work. They took turns getting behind the camera and experiencing the frenetic pace of life on a film crew as they made their own animated films, documentaries and digital stories.
So far, about a dozen groups of students – from Montreal as well as other regions of Quebec – have taken part in our 7 revamped educational workshops.
Participants in the Stop-motion Animation workshop created their own films – from script right up to shooting – animating modelling clay, puppets and paper cutouts. During the Seeing Sounds workshops, these groups then created soundtracks for their films. Grade 5 teacher Isabelle Calvé, from St-Isidore school, had this to say: "The workshop tied in directly with our film project. The vocabulary used was exactly the same as what we use in class. Students were able to experiment, and now are better equipped to finish their film at school."
Another group of young people followed in the footsteps of the legendary Norman McLaren, making a film together by drawing directly on film stock. They also experimented with pixilation, a technique used to animate objects or people. Linda Lambert, a Grade Five teacher at Marie-Clarac school said, "We learned a lot about animation theory and practice. We will look at films differently from now on!"
During the Doc Talk workshop, Grade 5 students explored different documentary genres and trends, and then experimented with filming as members of a team. By filming a fictional interview on a subject in the news, participants learned about operating a camera, lighting, and the importance of different kinds of shots. "We were offered a good hands-on overview of the various elements required to make a documentary. Thank you for allowing us to play with these tools," said Grade 11 teacher Annie Frenette, from Marie-Clarac school.
Another group of students took part in the Digital Storytelling workshop, learning how to develop critical-thinking tools to assess the abundance of content available online. They then created their own digital stories, on current subjects such as bullying, using video clips, voice and soundtrack. "Bravo! So many possibilities for applying the knowledge we learned in this class! The program leaders were very good – energetic, funny, patient, and interesting," said  Marie-Lou Ouellette, who teaches Grade 5 at Alpha school.
Teachers will be happy to know that half-day and full-day professional development workshops are also available at the NFB – providing a great opportunity to learn about how to effectively use NFB films in class and how to teach students to make their own animated films.
Our workshops are also available at the NFB offices in Toronto – and we can also take our show on the road. To learn more about the NFB's educational workshops, please visit NFB.ca/education/workshops.
If you do participate in one of our educational workshops, and then go on to create your own projects in the classroom, please drop by the blog and share them with us!