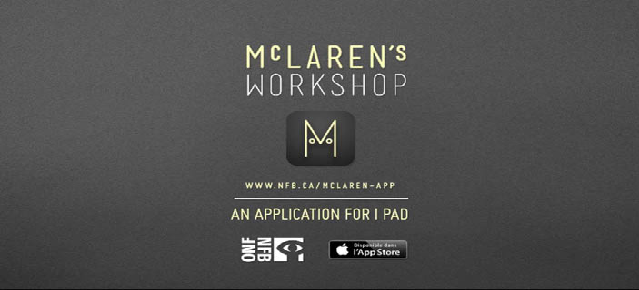 How to Use the New McLaren's Workshop App in Your Classroom
Interactive apps are an amazing addition to the classroom, as they offer students a unique way to learn new media skills and develop their creative abilities. Teaching animation is a great way to combine many curriculum links in one activity, and this is especially the case with our new, highly creative app: McLaren's Workshop. The app allows students to learn classic animation techniques pioneered by legendary Canadian filmmaker Norman McLaren. Here's a quick how-to guide for using it in your classroom.
The McLaren's Workshop app is free to download, and comes with options that allow you to upgrade various features and enrich your animation experience. It lets you make your own films, using 3 animation techniques made famous by McLaren: paper cut-out, etching on film and synthetic sound creation. It also gives you access to 51 films from McLaren's collection, including 11 documentaries about McLaren's techniques. Before getting started, screen one of these docs for your students to help spark their creativity and get them acquainted with the medium.
Watch the trailer above for a full overview of the app and all the exciting activities it can bring to your classroom. Each section of the app also has an easy-to-follow demo video to help guide you through the filmmaking process. You'll find these videos at the bottom right corner of your screen.
Set Up the Activity
This activity is easy to set up in any classroom. iPads should be placed on desks, and students can work individually, in pairs or in small groups, although this app is best suited for individual project creation. If your classroom has a limited number of iPads, set-up animation stations around the room. Screen a variety of NFB animated shorts for students to watch while they wait to try their hand at McLaren's Workshop. You can create an animation playlist using your CAMPUS account, which gives you access to our online screening room of over 2500 NFB films.
Once the iPads are in place, open the app and scroll through the list on the left-hand side of the screen to choose your activity.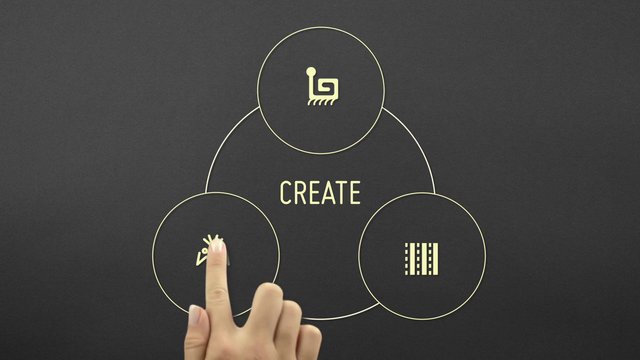 Paper Cut-Out Animation
Click "create a film" in the bottom right corner to get started. The next screen provides you with everything you need to make your own movie. Choose from a variety of shapes along the left side, and drag and drop them onto the screen. You can add music and insert credits along the bottom, and customize your features to include onion skinning, background changes, and much more. You can easily erase a photo by clicking on the button in the bottom left corner. Once you're ready to see what you've created, play your film using the arrow key at the bottom centre of the screen!
Etching on-Film Animation
This feature allows you to mimic McLaren's film-scratching technique on your iPad's screen. Though this method of filmmaking is rarely used now, it can produce some beautifully abstract animation. To get started, click on "create a film" at the bottom right corner of your screen. Select colours and experiment with thick and thin scratching "tools" along the side of the screen. Click the "+" key at the bottom to move to the next frame, and continue until you're ready to view your animation.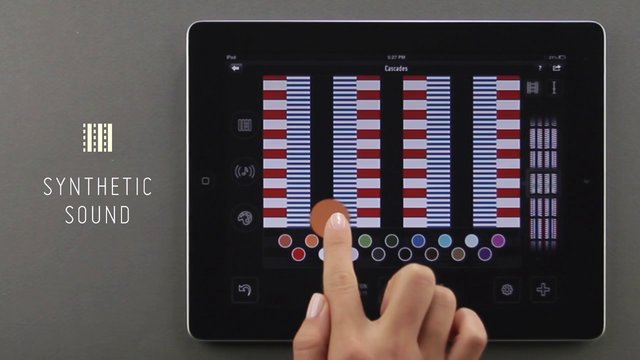 Synthetic Sound Creation
Who knew you could create sounds with film strip? This part of McLaren's Workshop is especially fun; students will be eager to experiment with the range of unique sounds that can be produced. First, select "create a film" at the bottom of the screen. Then, sample the variety of tools along the left side of the screen and make changes to each new frame. Finally, press play to listen to the original sound clip you've created!
Hold a Screening
Once students are ready to share their work, you can easily upload their films straight to Vimeo. If you have access to a projector, hold a screening of your students' creations after everyone has animated.  You can show the films straight from the site, or attach each iPad to your computer to project them. Your class will be proud to see their work on the big screen and happy to give their fellow animators a round of applause.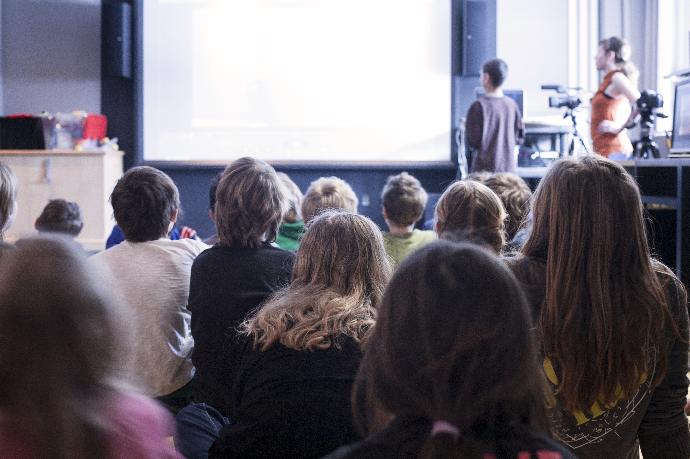 Introducing this workshop will definitely bring a range of creativity to your classroom, and if your students want to learn more, visit us for one of our interactive, multi-media workshops at our Toronto and Montreal studios to animate on a larger scale! We make films with students of all ages and guarantee an engaging experience making unique, student-led media. Go to nfb.ca/education to see descriptions of our workshops and to sign up.
Have fun animating this fall, and feel free to share your creations with us. Post in the comments section below or tweet your feedback at @thenfb. We'd love to see your work!