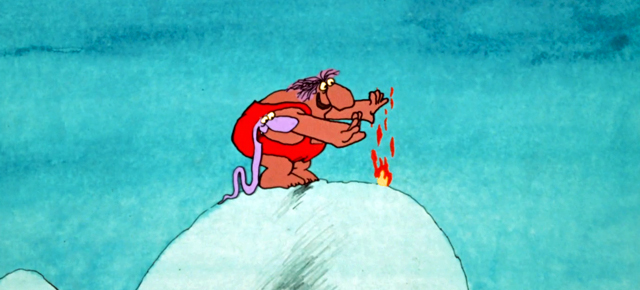 Playing With Fire: Watch Zlatko Grgić's Hot Stuff on NFB.ca
Fire is in the air these days. For many of us, this Labour Day weekend will mark the season's last campfire, while on a more dramatic note, forest fires lapping up large swaths of California are now reaching the edges of Yosemite National Park, threatening San Francisco's power and water supplies.
Fire, one of mankind's most ancient and fickle companions, is the subject of Hot Stuff, a sizzling 1971 cartoon that's as timely as it gets.
The film hails from the NFB's "sponsorship era," a time when the Film Board produced public service announcements for the Canadian government, often resulting, in the words of writer Karen Mazurkewich "in hilarious films (…) about truly boring subjects."
Hot Stuff, which was produced for the Dominion Fire Commissioner (of all people) is the perfect example of that.
In less than 10 minutes, it retraces – very loosely – the history of our involvement with fire from prehistoric times to 1970s suburbia. The film is split in 2 segments.
In the first, a cave man and his comrade Al, who happens to be a purple snake, are freezing their backsides off. The planet is undergoing an ice age and everything is frosty and damp. Things are so dire than one day, the gods take pity on them and give them fire. With this offering comes a condition: man must not be careless! Fire is to be his slave, for if given half a chance, it will devour all mankind.
The next segment transports us to a 1970s household, where a bald man named Ralph watches television while his wife irons sundry items. When Ralph (a.k.a. Pickle, a.k.a. Poopsie) gets up to fetch himself a drink, his wife asks him for some coffee and toast, an innocent request that bring forth terrible consequences.
What makes Hot Stuff so enjoyable is how wonky it is. The film was directed by Zlatko Grgić (1931-1988), a terrific Croatian animator celebrated worldwide for his psychedelic and nutty Professor Balthazar cartoon series. Between the talking snake and cat (yay for talking animals!) and the crisp, perfectly timed animation, the film is as funny as the topic is serious. See for yourself below.
Hot Stuff, Zlatko Grgic, provided by the National Film Board of Canada