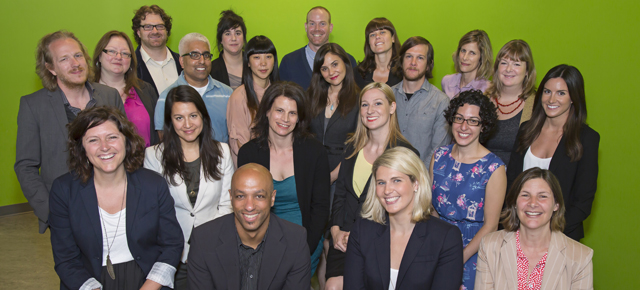 Back to school with the NFB's dedicated education team
As summer comes to an end, we wanted to take a moment to wish you all a happy new school year! We hope you all had an opportunity to take a long and well-deserved break. The fall season is an exciting time, and our dynamic NFB Education team is eager to help you as you prepare your classes for the year ahead.
A detail-oriented content team
The NFB's Education content team is looking forward to telling you about our new learning bundles – a vast selection of educational resources grouped by theme, and designed to help you prepare your courses. And, once again this year, we're delighted to be able to ignite the imaginations of students and educators across Canada through our virtual classroom events featuring renowned Canadian personalities. In collaboration with you, the teachers, our content team is also continually developing quality educational resources to complement the 3,500 NFB films available on CAMPUS. Showing films in the classroom is an easy way to make learning fun for students, which is why we've expanded our collection this year with 300 acquisitions from major partners. You'll notice when you log on, our collection is better than ever and you only have to go one place on the web to access films for your students.
A sales team that listens
Our sales team is raring to go, and can't wait to get in touch with you again. They're relying on you to let them know what you need; whether it be regarding content you're looking for or feedback regarding CAMPUS, your invaluable feedback will help us ensure that CAMPUS, Canada's primary online educational portal, continues to be your resource of choice while you're developing your lesson plans.
Engaged experts
Finally, our education specialists will continue to provide innovative, hands on workshops in Montreal and Toronto, and they're keen to introduce curious students to digital storytelling, media education and various documentary and animation filmmaking techniques. Don't forget that these teams will soon be travelling across the country to provide workshops and professional development at conferences—stay connected via social media to learn where we will be next!
We would like to wish you all a very rewarding fall and remind you that we're here to support you as you integrate 21st century learning tools into your classroom. Your comments are always appreciated and help us to better understand your needs and to develop the best possible tools for Canadian educators.
Subscribe to our monthly newsletter and don't forget that we're always only a tweet or a click away on Twitter and Facebook, so you can easily reach us and stay up-to-date on all of NFB Education's activities.
Happy Viewing!