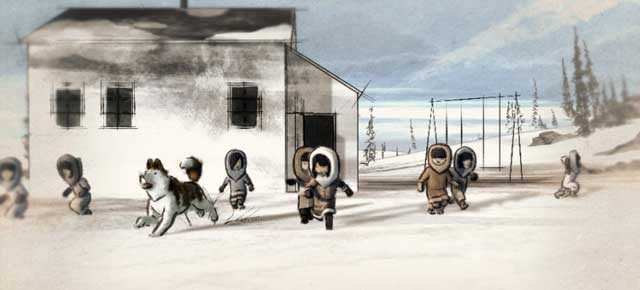 Film workshops north of the 60th parallel
A few weeks ago, my colleague Jessie and I had the opportunity to go to Yellowknife on an eight-day work trip. Our schedule was packed with lots of presentations and workshops. It was the second time I'd visited the Northwest Territories, which is fast becoming one of my favourite parts of the country.
Below, we've put together a list of the six things we loved the most about our big adventure in the North.
THE NWTTA iPad ANIMATION WORKSHOP
Every five years, the Northwest Territories Teachers' Association (NWTTA) flies educators from every corner of the territory to Yellowknife for an exciting conference featuring workshops, keynote speeches, and, of course, the opportunity to meet with each other and network. We were lucky enough to be invited to teach stop-motion animation on the iPad. Our workshop was a huge success. We gave teachers an overview of NFB Education's mandate, its CAMPUS offer, and covered the stop-motion basics with a fun, step-by-step "how to" tutorial that included tips on building a clay character and using the NFB StopMo Studio iPad app in the classroom. It was lovely to see teachers so excited about making their own short animations, and easy to imagine how thrilled their students would be as well.
MEETING THE MINISTER OF EDUCATION, CULTURE AND EMPLOYMENT, JACKSON LAFFERTY
Everything is a bit different in the North; it seems like people are warmer and much more accessible. I guess this is where the expression "Northern hospitality" comes from. Jackson Lafferty is no exception to this general Northern rule. He also cares greatly about education, and he seemed very interested in the various activities and initiatives of the NFB Education department.
YELLOWKNIFE AND ITS PEOPLE
Yellowknife is a unique place. The landscape is mind blowing, there are floating houses on the lake in Yellowknife Bay, the old town is full of fascinating historic buildings, and the night sky is filled with stars. It was a nice break from the urban jungle I live in. We met many creative and interesting people, some of whom were born there, some of whom had migrated there from different regions across the country. Yellowknife's inhabitants seem to have a special kind of strength that enables them to make the North their home.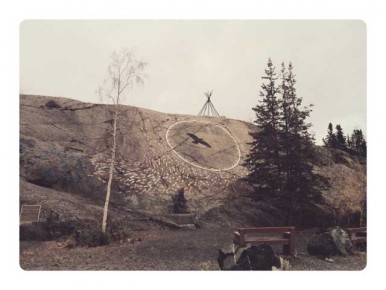 THE STUDENTS
Teenagers in Yellowknife are just as in sync with what's going on in the technological world as their counterparts in the South. And even though they live above the 60th parallel, their interests are similar to those of the youth in the rest of the country. We gave a documentary workshop to a class of high school students and one of the groups made their movie about Yellowknife—and how they wished there was a Starbucks and an Ardene in their city!
YELLOWKNIFE'S SPEEDY INTERNET SERVICE
Both Jessie and I have traveled throughout Canada, and we know how slow Internet speeds can be in some of the more remote parts of the country. But Internet speeds in Yellowknife were way better than we had anticipated, and allowed us to stream NFB films and explore interactive productions with no problem at all. This means that teachers there will be able to share our film collection with their students and use it as an educational tool, which we are super excited about.
THE YELLOWKNIFE INTERNATIONAL FILM FESTIVAL
My new favourite film festival! Filmmakers from all over the country flew to Yellowknife for this wonderful event. We got to spend some time with the organizers and to enjoy some truly amazing Canadian movies. It made me feel quite proud to be a Canadian. Jessie was asked to present the NFB doc The Wings of Johnny May and she did a lovely job. We also offered a stop-motion animation workshop, which resulted in some exceptionally good short films!