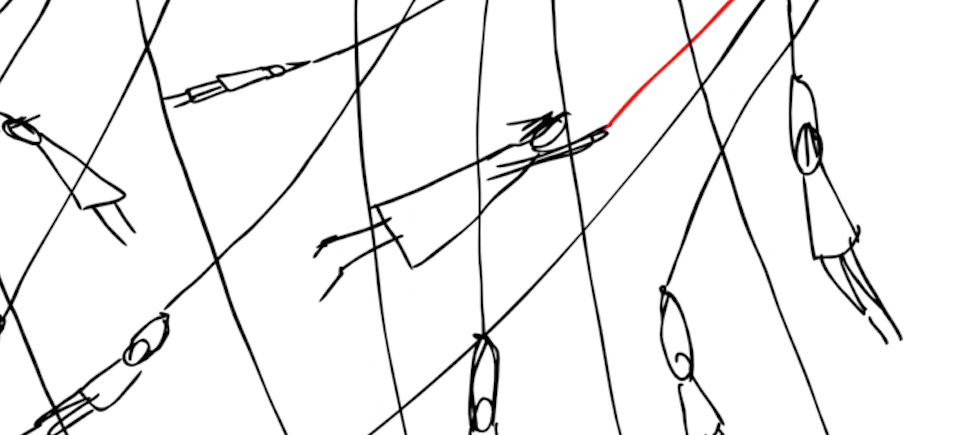 The Thin Red Line: New Animation from Torill Kove
Few artists mine family lore with such aplomb as NFB animator Torill Kove. Her first short My Grandmother Ironed the King's Shirts, a fond and finely wrought tribute to her grandmother, earned an Oscar nomination along with a Special Prize from the 2000 Hiroshima International Animation Festival. A few years later she brought home an Oscar for The Danish Poet, based on stories she heard from her dad, and her 2014 film Me and My Moulton, a wry evocation of her Norwegian childhood, earned yet another Oscar nomination.
She's currently at work on Threads, a project that takes her even deeper into personal territory. Inspired by her experience as an adoptive parent, it sees her working in a new, more minimalist register. A thin red line, pulsating and alive, runs like a vital graphic artery through the new work — five spacious and magical minutes of hand-drawn animation that plumb the complexities of human attachment.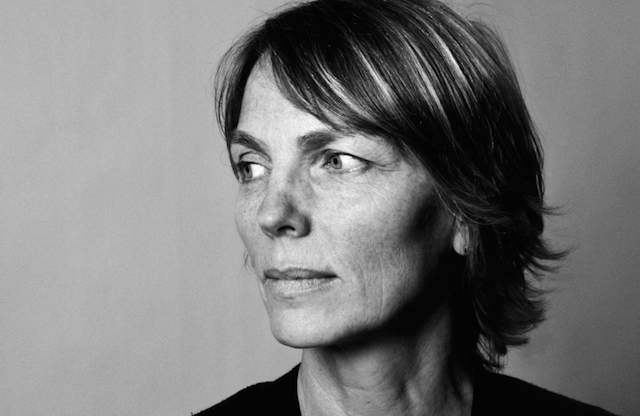 There's an interesting tension here between the graphic and narrative elements. What was your starting point?
I'm more interested in creating a feeling than in telling a story with this project. It's not exactly an abstract film — it still has characters and locations, and it represents human behaviour — but I am leaning towards fantasy, a kind of magic realism. And I want to keep it simple.
There were practical concerns too. I'm determined to keep this project visually manageable, to work alone, without relying too much on a production team. It sometimes seems that the more successful you get as an animator, the less you actually get to do your own animation. I'm indebted to the many talented assistants I've worked with over the years, but I've missed the hands-on aspect of creation. With this project, I have an assistant in Norway and I'll need help with the compositing, but I've been doing most of the animation myself.
I've decided against narration and that's a departure from my earlier work. Working without dialogue, a written script, poses a new set of challenges. You need to rely on visuals to evoke feeling and mood. Voiced narration can help you establish tone and inject humour — but with this project I'm relying more on purely visual vocabulary to add comedy and create mood.
So Threads has been an experiment in working simply. I'm drawing on a basic tablet, using Toon Boom Harmony Software — and in the end I've opted for one of the basic pre-set brushes. I've set myself the challenge of making a five-minute film within a year, and that's part of the appeal. Keeping it simple makes it easier to try new things with the visual universe that I want to create.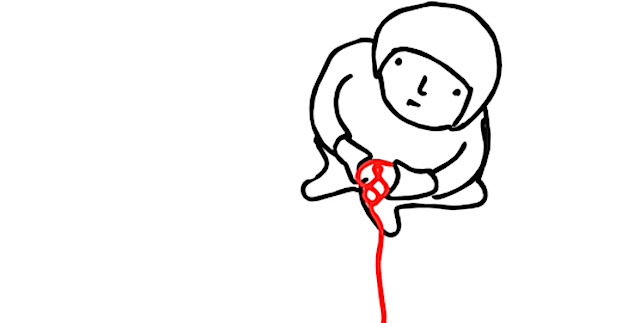 Does this approach — less literary, more visual — make it easier to explore personal issues?
I think so. This could be my most personal film to date. I'm tapping into all kinds of personal stuff — deep feelings that are hard to put into words.
In early storyboards I was framing the film more specifically as an adoption story. But it began to feel like I was opening a can of worms somehow. In adoption stories, someone always tends to get left out, whether it's the biological mother or another key actor. So the story has become most abstract — less focussed on a specific narrative, more magical and minimalist.
What really interests me is the idea of attachment itself — a complex dance that we all engage in somehow. How do we form attachments? Why are they so vital? How do they evolve over time? Lot of elements of the early storyboards remain, but the idea of parenting and adoption is now part of a bigger story, a bigger and more magical universe.
You often evoke urban life in your films. Echoes of your background in urban planning?
The idea of urban community certainly seems to have a way of sneaking into my films. I love drawing cities, depicting them in different ways — as maps or aerial views. And I like drawing houses and architecture, so I often find myself inserting details of room interiors and streetscapes into the frame. In some of my earlier films I actually wanted audiences to recognize specific cities — Oslo or Copenhagen.
It becomes another way of representing human interaction, of showing how people behave with each other. I think of my own experience in Montreal, how this particular city has generated all these personal connections in my own life.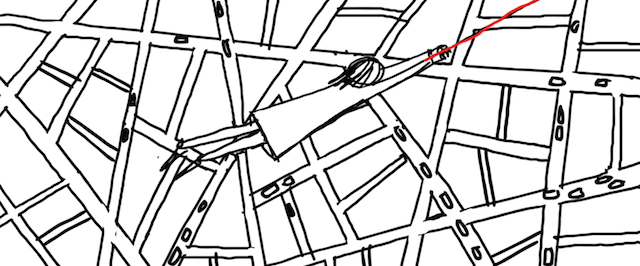 Does sound design become more important without voiced narration?
Absolutely, and I have great collaborators. Luigi Allemano is creating the sound design and Kevin Dean is composing the score. Both have lots of experience in creating sound for animation, and it's been exciting to discuss what kind of music and sound design we want. I've been listening to lots of new music, including recordings by Nils Petter Molvær, a Norwegian trumpet and composer. His music has a spacious processed quality, minimal, with lots of unusual percussion. There's something tribal about it — an open spacious feel that we may try to emulate.
I didn't set out to make a film without written narration. That's something that emerged in the creative process. I realized that I was seeing the story in purely visual terms. The way we form attachments to each other is so hard to describe in words. In fact, at one point I was toying with idea of calling the film "No Words."
What are your influences?
I didn't go to art school, and I've never set out to consciously imitate any specific artists. But I've been hugely influenced in a broad sense by NFB animation. This is where I got my start in animation, where I continue to find a creative home. So I think of people like Chris Hinton, Janet Perlman, Paul Driessen, David Fine and Alison Snowden, Richard Condie – all those NFB animators who have contributed to Canada's amazing animation tradition.
What does it mean to have a film produced by the NFB? 
It's a privilege and a luxury. The NFB Animation Studio is unique in the world. There's such a concentration of expertise here, such a wealth of historic experience in animation. So I feel fortunate to be working with such skilled producers — to have such supportive colleagues. And it's great to be collaborating again with Lise Fearnley and Mikrofilm, her wonderful studio in Oslo. I'm a happy animator: I get to be part of this amazing global community.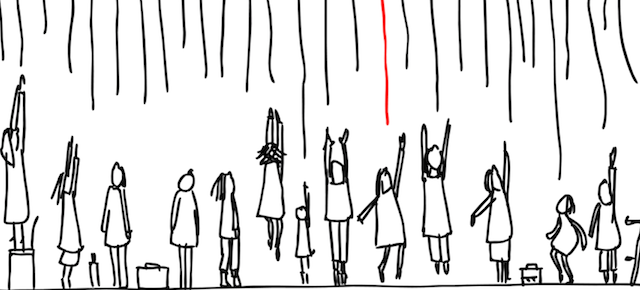 Threads is co-produced by the National Film Board of Canada (Michael Fukushima, producer) and Norway's Mikrofilm (Lise Fearnley, producer). It is scheduled to complete in the fall of 2016. Pictured above: examples of Kove's preliminary artwork.