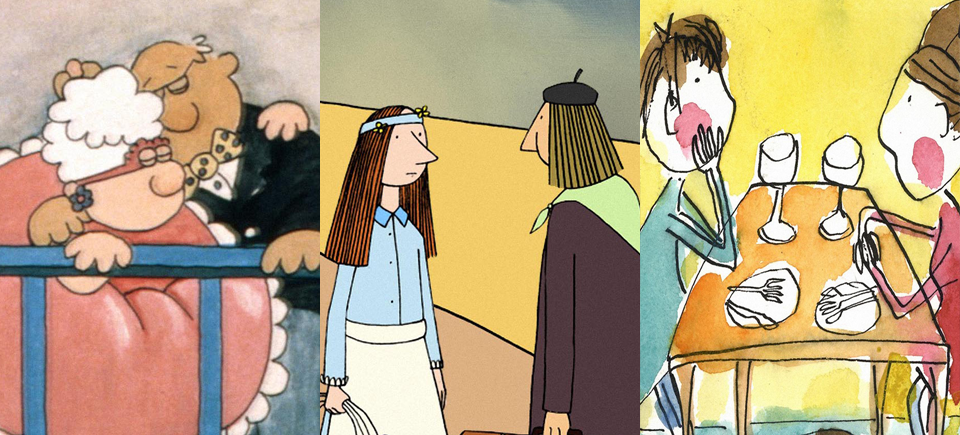 Drawn from the Heart | 5 Animated Films about Love
Amour, amor, amore… whatever language you speak, love is love. And just about everybody's a sucker for a great love story.
But what makes a love story great? Is there any one way of defining or depicting love? There are so many different types, and stages, of love. And each comes with its own degrees of joy and pain.
While great love stories can be told in any form or genre, we've chosen to put together a selection of 5 animated films, each of which explores a different aspect of love in its own unique way.
If I Was God
This is Cordell Barker's fourth film with the NFB, following on the successes of The Cat Came Back, Strange Invaders, and Runaway. It tackles the theme of young, innocent love through the story of a young boy who wonders what he'd do if he had god-like powers. And of all his options, the best one is to create the perfect day with 12-year-old Lily, the love of his life.
If I Was God…, Cordell Barker, provided by the National Film Board of Canada
The Danish Poet
Kaspar, a poet with writers' block, travels on holiday to Norway to meet his idol, the writer Sigrid Undset. He gets sidetracked when he stops at a farm seeking shelter from the rain, meets the beautiful Ingeborg, and stays on for months as they fall in love. But the star-crossed lovers are thwarted by Ingeborg's engagement to the farmer next door.
This is a film about searching for inspiration and trying to make sense of our existence. But ultimately? It's a love story.
The Danish Poet, Torill Kove, provided by the National Film Board of Canada
Flawed
This beautiful little film is more about learning to love yourself than learning to love another. Sure, it comes across as a straightforward love story – girl meets boy, they fall in love, conflict arises. But at its heart, this is really a story about how one woman learns to love herself; how she learns not to look past her flaws, but to embrace them as part of what makes her whole.
Flawed, Andrea Dorfman, provided by the National Film Board of Canada
Strange Invaders
Oh, the honeymoon period after marriage. Who knows how long it will last? For some, it's weeks or months, for others, years. It's such a wonderful time, when your partner can do no wrong, and the passion level is at an all-time high. This is the love people mourn when relationships go awry. But you know what can change this deep, passionate love real quick? Kids. Watch Cordell Barker's mastery once again as he so brilliantly portrays the changing dynamic in a couple's love life as they set about the task of raising a child.
Strange Invaders, Cordell Barker, provided by the National Film Board of Canada
George and Rosemary
Alison Snowden and David Fine strike gold with the endearing tale of George, who has loved his neighbour, Rosemary, in silence from afar for so, so long. But every time he even thinks about approaching her, he turns beet red and breaks into a sweat. He watches her constantly, to such a degree that, well, it's a little stalkerish. But finally, George just can't take it for one more minute, and he marches across the street to profess his love. What happens next is just proof that sometimes, we all just need to listen to our heart and take the plunge.
George and Rosemary , Alison Snowden & David Fine, provided by the National Film Board of Canada