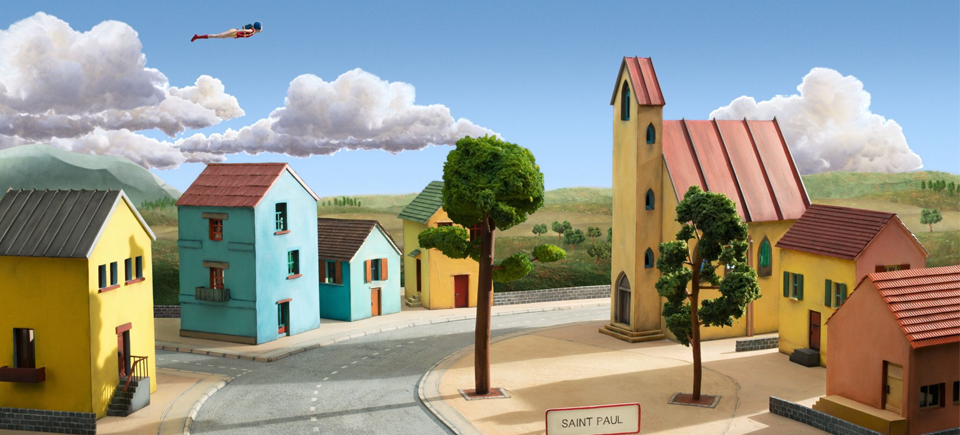 Keep an Eye Out for These 7 NFB Animated Films in 2018
It's going to be a stellar year for NFB animation. How do I know? Just take a look at some of the films we've got scheduled for release in 2018.
Animal Behaviour
You know 2018 is going to be hot when the Oscar-winning team of Alison Snowden and David Fine is back! This time, they're bringing us a clever and hilarious take on group therapy. Led by a bespectacled hound, watch as a motley crew of animals confess their deepest secrets and reveal their basest instincts.
Until the film is released, enjoy some classic Snowden/Fine in the Oscar®-winning Bob's Birthday, a painfully funny film with some surprisingly subversive humour.
Bob's Birthday, Alison Snowden & David Fine, provided by the National Film Board of Canada
The Cannonball Woman
Madeleine and her husband's travelling "cannonball woman" show may be spectacular, but their domestic life is just plain boring. This is a bittersweet stop-motion animated film about love standing the test of time.
This film, produced by Claude Barras (My Life as a Zucchini), had its premiere at the Locarno International Film Festival in 2017. Watch the trailer below.
The Cannonball Woman, Albertine Zullo & David Toutevoix, provided by the National Film Board of Canada
Hedgehog's Home
This sumptuous and delicately choreographed stop-motion fable—made entirely of needled felt—revives the timeless and timely notion of cultivating our own place of safety, dignity, and comfort, no matter how big or small. Like a welcome blanket on a chilly day, Hedgehog's Home is a warm and universal tale for young and old that reminds us there truly is no place like home.
This film has already hit the festival circuit and has won over 25 awards, from Annecy to Zagreb. It still screens from time to time, so keep an eye on our events page for it to hit a theatre near you.
Hedgehog's Home, Eva Cvijanovic, provided by the National Film Board of Canada
Freaks of Nurture
Alex Lemay's animated stop-motion short about a young filmmaker's complicated relationship with her mother is a smart, laugh-out-loud film with heart. Playful and self-deprecating, it reveals what it means to grow up, become independent, but still crave the love and support of a parent.
We don't have a release date for the film yet, but you can read more about it here and watch Alex's first film with us, the brilliant All the Rage.
All the Rage, Alexandra Lemay, provided by the National Film Board of Canada
Shop Class
This is the darkly funny coming-of-age story of Hart Snider, a newly minted teen trying to survive junior high—and shop class—and discovering a few things about himself along the way. It takes us back to the 80s, with plenty of off-beat humour and clever nods to pop culture.
Three years in the making, the film will be released in 2018. Snider himself describes it as a follow up to his earlier film, The Basketball Game.
Caterpillerplasty
This animated short is from David Barlow-Krelina, who first worked with the NFB as a participant in the 2012 edition of Hothouse. His latest film focuses on plastic surgery for the modern era. While other clients are getting their faces lifted and their tummies tucked, man with a perma-smile is ushered into the VIP operating room for a whole different kind of procedure.
The film will be launched in 2018. Until then take a look at his earlier work, The Visitor.
The Visitor, David Barlow-Krelina, provided by the National Film Board of Canada
Wall
We've also got a feature-length animated film coming out this year, which had its festival debut in late 2017. Wall explores both sides of the barrier separating Israel and Palestine. Written by two-time Oscar® nominee, screenwriter and playwright David Hare, this visually striking 80-minute film takes an unflinching look at the Middle East.
The film was directed and animated by Cam Christiansen, who previously worked on one of the short films we produced for the Governor General's Performing Arts Awards recipients, The Real Place.