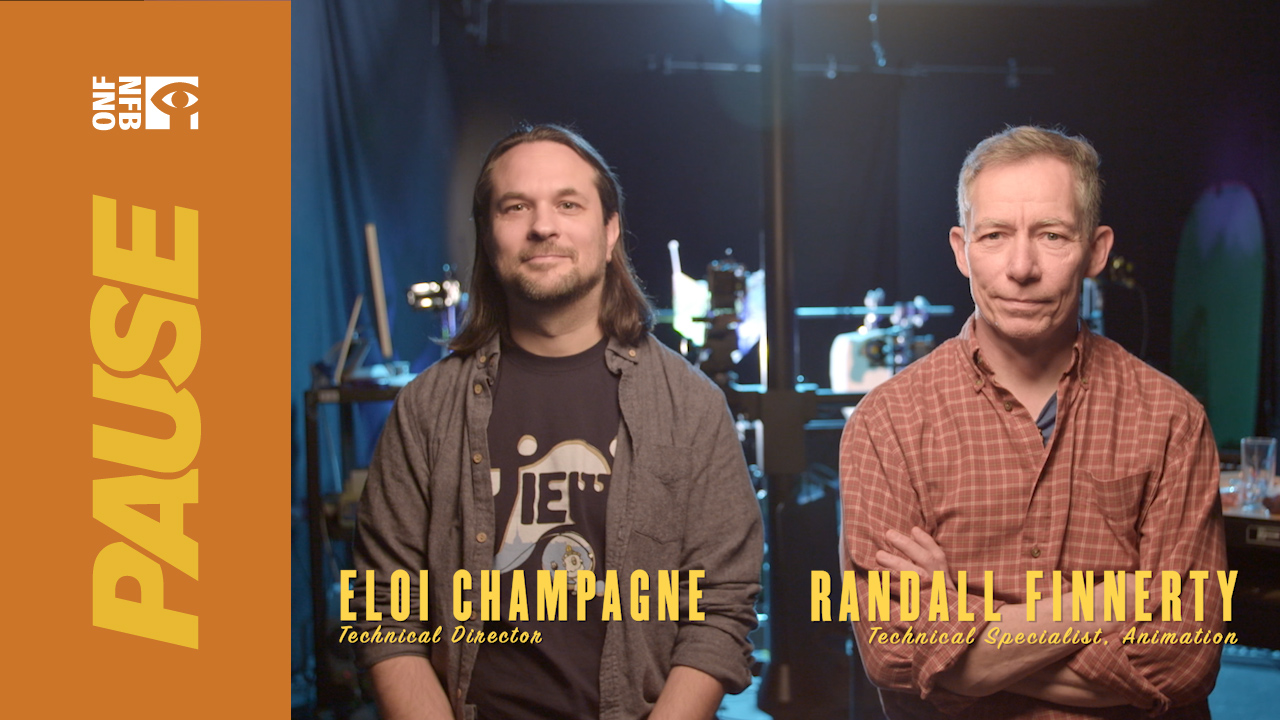 NFB Pause: In the animation studios with Eloi and Randall
This week on NFB PAUSE we spoke to two members of the animation department, Eloi Champagne and Randall Finnerty. Through their candid discussion and one-on-one interviews, we learn quite a bit about the inner workings of the NFB's animation studio.
Animation at the NFB
The animation department is one of the cornerstones of the NFB. Almost since the Board's inception, animation has played a huge role in its activities. From reels made for the war in the 40s to today's experimental shorts, it has been a hotbed of creative activity for almost 80 years. Seven of the Board's 12 Oscar wins belong to the department, not to mention dozens of nominees.
Yet none of this would be possible without the incredible staff members who work there. Dedicated, bold, experienced – they will do whatever needs to be done to get the project completed. The NFB boasts its auteur approach to animation, but it still takes a team to bring the vision to the screen.
Enter Eloi Champagne and Randall Finnerty, two men who bring years of experience, passion, and craft to their positions. The former serves as technical director at the Board while the latter is the technical specialist for animation.
Eloi Champagne, Technical Director
With a background in photography and typography, Eloi possesses many skills that transfer beautifully over to his position at the NFB. He is 100% on board with the Board's mission to produce projects that cannot be undertaken in the private sector. He thrives on the innovative work he gets to do – in film, interactive, and VR.
Some of Eloi's other credits include Mystery of the Secret Room, Little Big Bang, The Death of Kao-Kuk, and I Am Here, a short film about one man's search for answers to life's big questions.
oehttps://www.nfb.ca/film/i_am_here/
Randall Finnerty, Technical Specialist
Randall is a 21-year veteran of the NFB. At this point, he's got a toolkit like you've never seen, and is capable of working miracles. He's also easygoing and generous with his time. You want him on your team. He's got credits on over 100 films and has worked closely on 50% of those.
Some of Randall's other credits include Me and My Moulton, Soup of the Day, Meltdown, and last year's runaway hit, Hedgehog's Home.
Hedgehog's Home, Eva Cvijanovic, provided by the National Film Board of Canada
About those Oscars…
Some of the animation films graced with an Oscar include The Danish Poet, Neighbours, and Bob's Birthday, whose creators – Alison Snowden and David Fine – are up for another Academy Award this year with their latest film, Animal Behaviour. Lucky for you, it's available online for free for a very limited time.
Animal Behaviour, Alison Snowden & David Fine, provided by the National Film Board of Canada