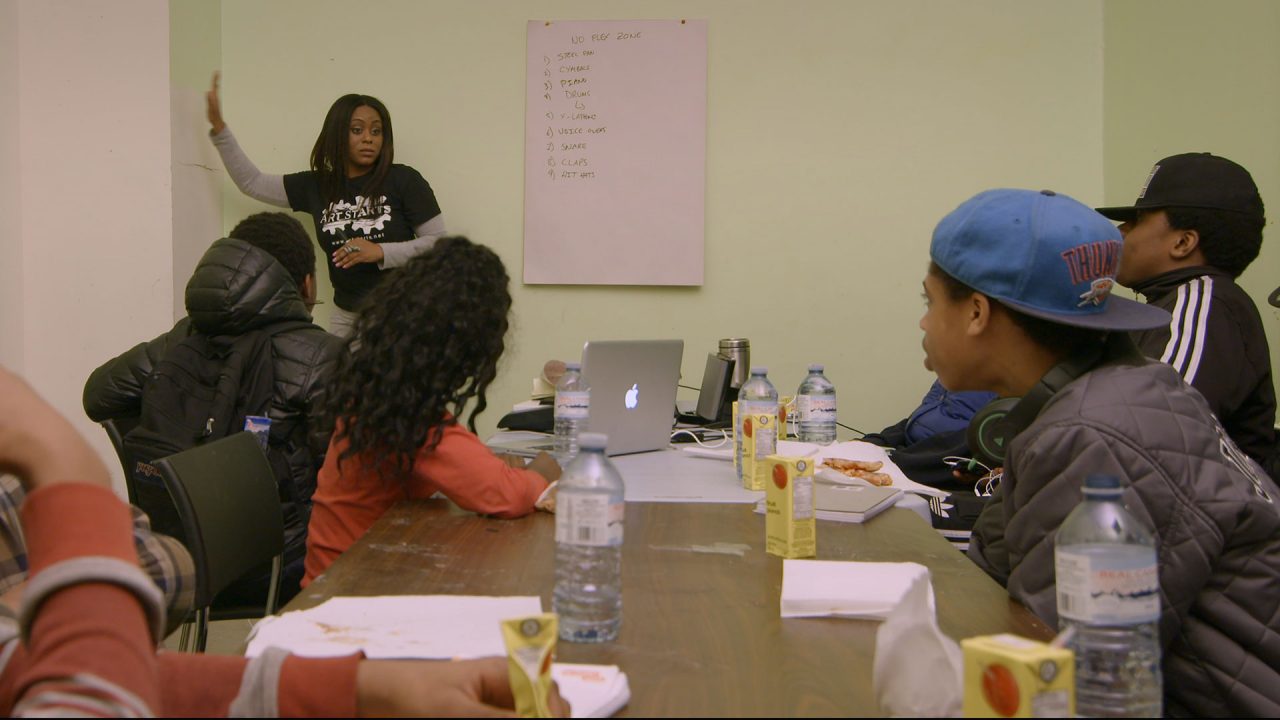 5 Tips for Facilitating a Film Discussion in the Classroom
Above photo: Unarmed Verses, by Charles Officer, provided by the National Film Board of Canada
Our students are avid consumers of visual media. However, hours and hours of accumulated watching doesn't mean that they know how to think critically and participate in an academic discussion about what they see on screen. In order for film to be an effective learning tool in the classroom, teachers must guide students beyond passive participation and help them to watch and listen critically, exchange their ideas and reflect meaningfully. Here are five tips to facilitate discussion-based learning in the classroom.
Ensure that the classroom community works together to develop a sense of trust and belonging.[1] Films often deal with difficult topics. Complicated feelings can arise when students are asked to analyze and share their thoughts about these topics. It is important for students and teachers to define or contract expectations about how the classroom community will treat each other. The goal of contracting is to establish and agree on "norms (to) protect everyone's right to speak; where differing perspectives can be heard and valued; where members take responsibility for themselves, each other, and the group as a whole; and where each member has a stake and a voice in collective decisions."[2] Your classroom's discussion may include statements like:
Try to understand what someone is saying before jumping to conclusions;
Ask questions for clarification if you don't understand something;
If someone says something that helps you understand, say thank you. [3]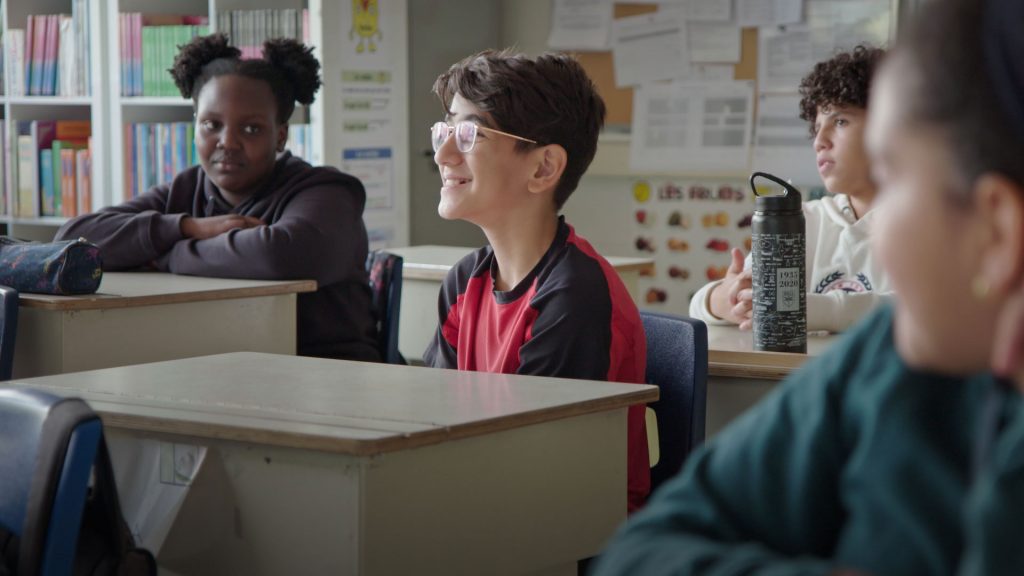 Discuss with your students what a thoughtful conversation should look and sound like to them. Clarify that the goals of a discussion are to learn together rather than to win a debate.
Establish clear learning goals in the planning stages of the discussion. Ask "what do I want my students to know, do and understand from their discussion?" Provide your students with thoughtful questions that get to the big ideas presented in the film and connect to what you are studying. These questions should push student thinking and require them to do more than just recall facts or define words. As students view the film, pause to ask questions that encourage them to consider different perspectives, reflect on their own judgments and share their ideas as they learn how classmates responded to the same content.[4] Students can consider questions like:
What did you learn from the film?
Whose voices are missing?
What lesson can we learn from the events depicted in the film?
How might things be different if these events never happened?
Allow enough time for students to process their thoughts, talk and reflect.
Determine what vocabulary and background knowledge students will need in order to have a meaningful conversation about a topic. Once you have chosen questions and prompts that will guide the discussion, assess student knowledge and experience with the issues and topics presented in the film. Provide them with an outline of the film and background information for context as necessary. Define vocabulary that students will need to know to discuss the questions. As you define terms, be conscious of the language you use. Craft questions that encourage students to interrogate how traditional textbooks may have described different identifies presented in the film. Due to their lived experience, some students may be more strongly affected than others by the discussion. Plan in advance what you can do to prevent students feeling triggered or tokenized.[5] Provide content warnings and alternative viewing options to support their learning.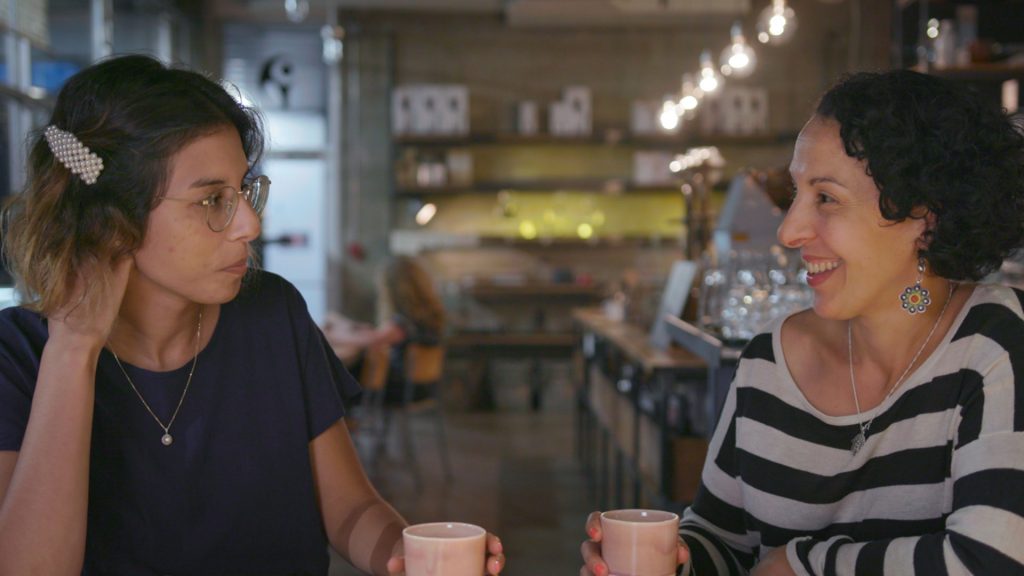 Set up your classroom so that students can easily transition from viewing the film to discussing the film in groups. Arrange seating so that students can focus on each other and communicate without having to filter their discussion through the teacher. Small group discussion can be a great option as it can take the pressure off speaking in front of the whole group.
Help students practise how to have a thoughtful exchange and expand on each other's ideas. Provide accessible talking prompts they can use as they respond to the questions. This will be particularly helpful for English language learners. Here are a few examples of talking prompts to use:
To agree: I like what __ said because…; What we both agree on is…;
To disagree: I don't agree with that because…; Have you thought of…;
To ask for clarification: Can someone help explain…; Can you say more about…;
To build on each other's ideas: This makes me think that…; What __ said makes me wonder…; I want to add… because….[6]
Plan in advance for ways to encourage all students to contribute meaningfully. Active listening and asking questions are just as important as sharing their opinion.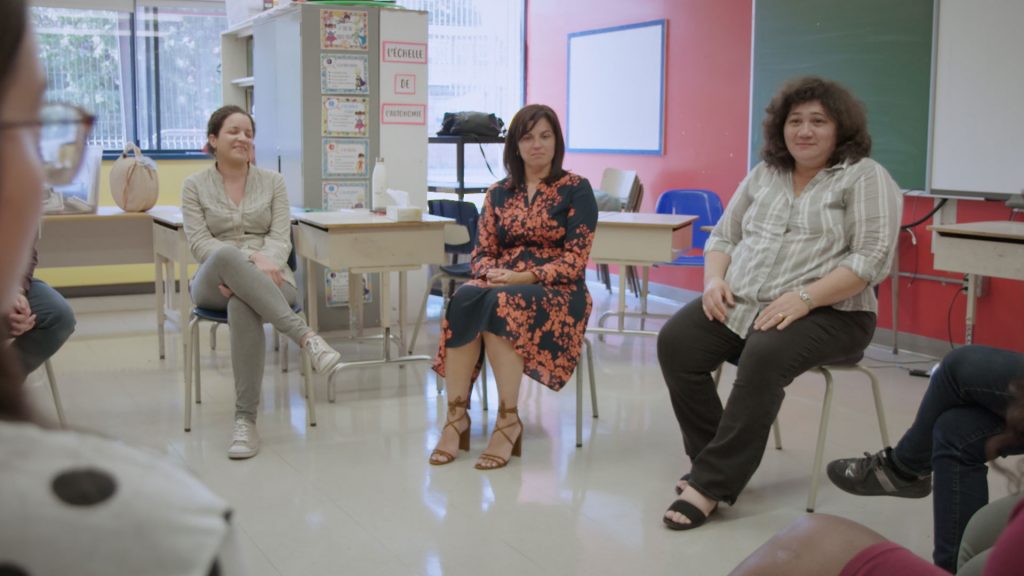 Don't forget to leave time for students to reflect on their experience. This can happen through a full class debriefing or through individual reflection. This will give students an opportunity to consider what they learned through the discussion process and give you valuable feedback on what went well and what could be improved. [7] Students can self-assess on an aspect of the discussion (for example, "how well did I follow the discussion norms?") or reflect on the learning goals (for example, "how well can I explain this narrative technique based on the discussion we had?").[8] Remember that the planning, strategizing, discussion and reflection that lead to engaging discussions is a process that takes practice but will ultimately lead to deeper learning.
*
The NFB produces monthly mini-lessons designed to help facilitate discussions in the classroom based on films and interactive projects from our extensive online collection. You can access our mini-lessons for free here.
Additional resources:
Teaching Tolerance. Let's Talk: A Guide to Facilitating Critical Conversations with Students. Montgomery: The Southern Poverty Law Center, 2019.
Landsman, Julie. "Helping Students Discuss Race Openly." ASCD Vol. 74, no. 3.  https://www.ascd.org/el/articles/helping-students-discuss-race-openly. November 1, 2016.
Leigh-Ann Malcolm (she/her/elle) is a Montreal-based educator with over 20 years of experience teaching social sciences to French second-language learners. Her mission is to engage students through authentic learning experiences that empower them to effect positive change in their communities. She is committed to decolonizing her practice and helping students deepen their understanding of the past and their world today.
[1] Loretta J. Ross, "Speaking Up without Tearing Down," Teaching Tolerance Magazine, Issue 61 (Spring 2019).
[3] Teaching Tolerance. Let's Talk! A Guide to Facilitating Critical Conversations with Students. Montgomery: The Southern Poverty Law Center, 2019.
[5] Teaching Tolerance. Let's Talk! A Guide to Facilitating Critical Conversations with Students. Montgomery: The Southern Poverty Law Center, 2019, p. 17.
[7] Teaching Tolerance. "Fostering Civil Discourse: How Do We Talk About Issues That Matter?" Facing History & Ourselves. Updated August 2020. p. 8
Pour lire cet article en français, cliquez ici.
Discover more Educational blog posts | Watch educational films on NFB Education | Watch educational playlists on NFB Education | Follow NFB Education on Facebook | Follow NFB Education on Pinterest | Subscribe to the NFB Education Newsletter