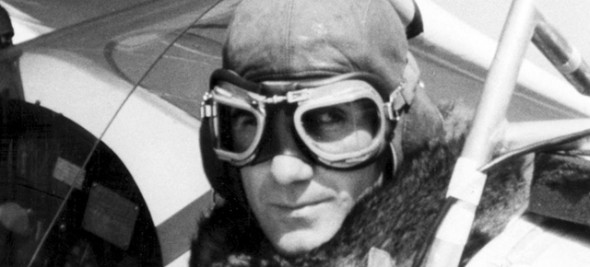 Jets, Floatplanes and Bombers: 15 NFB Films about Planes
Films
I love airplanes. When I was a young and innocent 20-something, I took a job as a flight attendant with Air Creebec, a Native-owned airline that services Cree communities in Northern Quebec and Ontario. It was grand.
Between Waskaganish and Whapmagoostui and Val d'Or and Timmins, I learned how to live and work in a metal bird suspended between heaven and earth – usually in the middle of some feral ice storm.
I learned to appreciate the thrill and immediacy of small aircrafts (King Air 100s, DHC-3 Otters) but more importantly, to trust maintenance and flight crews to keep us safe and sound despite the mayhem that comes with flying propeller airplanes (we flew mostly DHC-8-100s) into Northern Canada's winter wonderland.
Snooping around the NFB website (something I strongly encourage anyone with an internet connection to do and keep doing), I realized we have a wide array of plane films available for free streaming online. For your viewing pleasure and enjoyment, I listed them here for you, in chronological order.
Plane geeks of the world, you're welcome.
1. Global Air Routes (1944)
This is the first of 2 NFB films about planes released in 1944. As opposed to its train-busting counterpart below, this deliciously retro 15-minute doc focuses on the civil aviation side of things, giving an account of the development of air transport during WWII and, according to the synopsis, "highlighting the contribution of air transport to world unity." (Ah planes.)
2. Train Busters (1944)
Here, things get a bit heated. We're introduced to the Royal Canadian Air Force's 32 overseas squadrons and witness Canadian airplanes destroy a German munitions train.
3. Wasp Wings (1945)
This one's all about Spitfires, and how these small single-seat fighter aircrafts helped defeat the Axis during WWII. Includes footage of Spitfires in action during the Battle of Britain, in Italy, and on D-Day.
4. Transpacific Flight (1953)
Here, On the Spot host Fred Davis interviews the pilot, navigator and stewardess on a transpacific flight to Japan. (Flight attendants represent!)
5. Birth of a Giant (1957)
Remember the Canadair Argus? This doc tells the story of the conception, construction and testing of this marine reconnaissance aircraft once known as the finest anti-submarine patrol bomber in the world.
6. Blake (1969)
In this short doc, Bill Mason (of wolf and canoe fame) introduces us to his friend, fellow filmmaker and "hobo of the skies" Blake James, a free spirit who flew his own plane in the wilds.
7. Aviators of Hudson Straight (1973)
Retired Air Vice-Marshal Thomas A. Lawrence, leader of the 1927-28 aerial survey expedition to Ungava Bay and the Hudson Strait reminisces on the early days of Canadian aviation (in general) and the challenges of flying under Arctic conditions (in particular).
8. Wop May (1979)
Bush pilots are by definition very cool, but Wop May – one of Canada's leading bush pilots in the 1920s – was definitely one of the coolest.
9. Bush Pilot: Reflections on a Canadian Myth (1980)
Speaking of bush pilots, this short doc is a comprehensive portrait of a heroic Northern figure – already on the verge of obsolescence thirty-odd years ago. (For more, read our in-house film expert's blog post on this film.)
10. Challenger: An Industrial Romance (1980)
This one's about another Canadair plane, the Challenger. A totally new type of aircraft, this super-executive jet was faster, cheaper to fly, and more comfortable than any other business jet out there. Would it make it off the drawing board and into the air? Watch and see.
11. Canada Vignettes: Canada's Snowbirds (1980)
Witness the Snowbirds' fitness with this short film from the Canada Vignettes series. Officially known as the Royal Canadian Air Force's 431 Air Demonstration Squadron, the Snowbirds are Canada's air show flight demonstration team.
12. Max Ward (1984)
This doc is a portrait of Max Ward, the affable former bush pilot who founded Wardair. (For more, check out our in-house film expert's blog post on this film.)
13. The Defender (1988)
Most people are happy just flying planes (or even more likely, being flown in planes.) Bob Diemert of Carman, Manitoba, was more ambitious yet. His dream? Building the world's next great fighter plane. Just FYI, this doc is part of our deliciously nutty Outside the Box film channel, whose enticing tagline reads "Experimental films, humorous films and films that make you go "Wha…?" (For more, see our in-house film expert's blog post about this film.)
14. Death by Moonlight: Bomber Command (1991)
This next film tackles a vastly more sombre topic: the deeds of Canadian pilots who served in the air force bomber command in Britain during WWII. Told they would be targeting factories and military targets, the airmen were actually ordered to drop their payloads on civilians in an attempt to annihilate the enemy. Sensitive souls be warned: viewer discretion is advised.
15. Rosies of the North (1999)
And last but not least, a film about the Canadian women from Thunder Bay and the Prairies who built world-class fighter planes while their men were busy abroad fighting in the Second World War. A cupcake with that lethal aircraft, anyone?