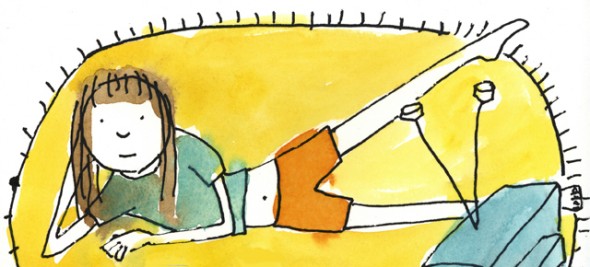 Spring Break | Watch 3 New Animated Shorts for Free
Films
The nice thing about Spring Break – aside from no school, if you're a kid, or poolside double-margaritas, if you're an undergrad – is that it heralds spring, a season many Canadians have been fervently anticipating since last November. It's almost here! We're even changing the time this Saturday. I can almost smell the tulips and daffodils.
Another nice thing about Spring Break is we've put together a collection of 37 films for you, your kids, or both to enjoy over the holiday. All the films are kid-friendly and free to watch online. (A few of my favourites are Mr. Frog Went A-Courting, Adventures and The Magic of Anansi.)
Among them, you will find Flawed, Big Mouth and Waseteg – 3 recent and amazing shorts exceptionally available for free streaming. Watch them on NFB.ca below before 15 April 2013.
*
Flawed, Andrea Dorfman, Office national du film du Canada
Nobody's perfect! Enjoy Andrea Dorfman's water-coloured romance about sharing your shortcomings and learning to love yourself.
Big Mouth, Andrea Dorfman, Office national du film du Canada
Join Trudy, a little girl who is equal parts honest and rude, on her journey towards harnessing the true power of words. Another great Andrea Dorfman animated short.
Waseteg , Phyllis Grant, Office national du film du Canada
Discover this short animation about dreams, courage, identity, creation and embracing our elders. Narrated by legendary filmmaker Alanis Obomsawin.
*