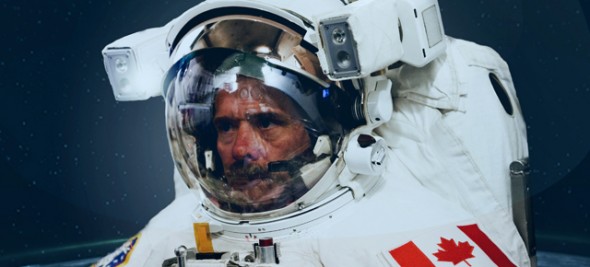 NFB Space School Takes Off April 22
Education
Interactive
Got kids who love science, space and all things astronaut?
Starting April 22, the NFB is inviting all kids aged 11-15 to grab front row seats to Chris Hadfield's historic mission as the first Canadian commander of the International Space Station (ISS) with NFB Space School, a brand-new interactive experience designed just for them.
Melding mankind's millenial fascination with space with cutting-edge interactive technologies, NFB Space School will launch with 2 modules – Mission and Leadership – featuring exclusive footage of Chris Hadfield, interactive videos and quizzes. Shortly thereafter, more modules on subjects such as astronomy, history and astrobiology will be added to the site.
Here's a sneak peek of the video component:
To launch the site, the Canadian Space Agency, Halifax's Discovery Center and the NFB are hosting a Q & A with Chris Hadfield – live from space! Lucky students from 3 Halifax junior high schools (Prince Arthur Jr High, Bedford Jr High and Leslie Thomas Jr High) will be asking the questions, with commander Hadfield answering them in real time, live from the ISS.
The Halifax event will be streamed live online on Monday April 22, starting at 11:10 am (EDT). You can watch it here: http://www.asc-csa.gc.ca/eng/webcast.asp
To learn more about the ISS mission and the CSA's activities, visit commander Hadfield's Astronaut Mission page.
For up-to-the-minute updates, follow the Canadian Space Agency and Chris Hadfield on Twitter.