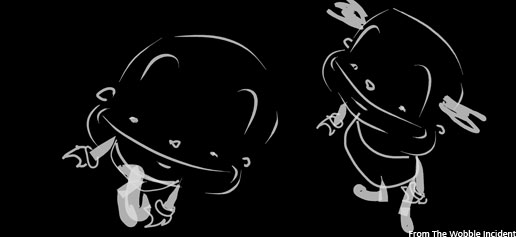 This is Part 2 of a guest post by Claire Blanchet and Sam Vipond about the making of their film, The Wobble Incident, as part of the Making Music emerging filmmaker program. You can read Part 1 of their post here.
Claire had some experience with 3D animated film, so we knew enough to realize that unforeseen challenges were probably going to arise. While we were brainstorming, it would have been easy to get overwhelmed by the unknown, and to start nixing ideas before they hatched. But we didn't want to make our creative decisions that way.  The Wobble Incident and our participation in Making Music was a one-time chance to take a leap, to experiment with this amazing stereo drawing device (SANDDE), and to develop sound and image simultaneously.
This being a training program, we were allowed some freedom. We were able to take some risks and figure stuff out as we went, with constant support and guidance from the most amazing of teams.  As a result, our film went through many permutations, and solidified into The Wobble Incident.
There's one part of the film where the whole world starts dancing and bouncing around. This was a part where Sam had a specific idea for the starting point, of how the visuals would react to the music. Past the starting point, Sam relied on Claire to do something amazing, but to get the initial wobble of the world down, Claire suggested that Sam draw the movement lines himself.
The background was already drawn, which for this scene is mainly a few mountain-like things. Claire showed Sam how in SANDDE you can give an object an anchor point, and then draw a 'spine' for it, which dictates the path the object will move along. Really interesting, sometimes 'impossible' things can happen, depending on where your anchor point is and how ridiculously you try to move the 'spine-warp' in 3D.
Sam sat down with the SANDDE wand in hand, with the as-yet uncomposed music kind of floating around in his head, and made the mountains sway to and fro. It was really neat. And those original mountain movements are still there.
Animating in SANDDE is exciting for tons of reasons, but one of these is the possibility of recording action by moving the wand through the air…say you want to move a line or object from one side of the screen to the other: you capture actual human movement, can play it back with music in realtime, and are also seeing the whole thing in 3D on a large screen as you work.  Its pretty unbelievable.
Our Making Music project premise was based on the on building (and un-building) of a 1920s Cartoon-inspired world…but we reserved the last section for pure unabated experimentation.  Working solely from the inspiration of Sam's sound, Claire was free to experiment with SANDDE.  There were a few lucky accidents that exploded into some material we found pretty exciting.
The most rewarding art-making moments are like this: when in the midst of all your planning and practicing and scrutinizing, something completely unexpected happens.  Suddenly, without warning, you're witnessing something powerful, that defies imagination.  The feeling is indescribable.
This is why we love experimental film.
***
Who wants to hear more about SANDDE and 3D animation? I'm trying to woo Maral Mohammadian, who can give me a great interview about all things animation and 3D. Send me your questions via the comments section. -Julie