4 things about Hothouse animator Zane Kozak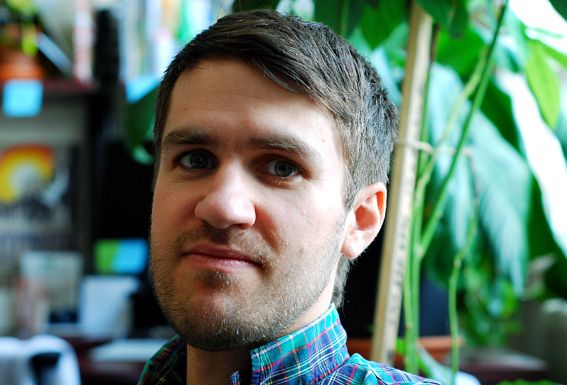 This post is part of a series of interviews with this year's Hothouse participants. Created in 2003, Hothouse is a 12-week paid apprenticeship program for emerging filmmakers that takes place in the NFB's Montreal Animation Studio. This spring, the 6 participants were given 3 months to produce a short animation film, but with a twist: all films had to be in stereoscopic-3D.
I spoke with the Hothouse filmmakers during their last week at the NFB and asked them to tell me 4 things about themselves. Here is what Zane Kozak had to say.
1) One thing about himself: Zane says he always had a thing for animation. "As a child, I was really into [the old] Spider Man, Mighty Mouse," he says. Later in life, Zane took a detour through sculpture before returning to animation film. Working with synthetic materials like rubber, resin and "stretchy rubber cord," Zane designed all sorts of characters and armatures. "My sculptures are always kinetic in some way… articulated," Zane says. He has also done character animation for video games.
2) One thing about his film: Making Zane's film, Blind Evolution, was a bit of a technical challenge. "Let's just say I was pretty happy the day I figured out how to do what I wanted to do," Zane says. He explains that this Eureka! moment came when he figured out how to have his character – a 3D sculpture of his face, based on a photograph – be blown apart but still "retain the animation of the former character." The process, which he says could best be explained in layman's terms as "feeding some mesh data to some other mesh data," came after long hours of trial, error and head-scratching. In an interesting "everything is in everything" sort of development, mastering the techniques  required to make his film called upon many of the skills Zane acquired during his sculpting days. "Whether it's actual materials, or 3D points on a screen, it's the same skill set," he says. "With the right brushes, a Wacom tablet is just like clay."
3) One thing about working with the NFB: "I found it amazing," Zane says. "Surprisingly, [the NFB] was pretty similar to other environments I've been in before, like the commercial animation industry… yet so much better." He says the people at the NFB all had a generosity and willingness to help others create animation that made him feel instantly welcome. He adds working in the 3D lab (Stereolab) was "super impressive," and that its production manager, Maral Mohammadian was a great help to all. "It was so neat to have her around," Zane said. "She's an amazing producer."
4) One thing he'd like to share with other emerging filmmakers: "I always found forums exceptionally useful," Zane says. "If you know the stuff you want to figure out – especially for 3D – googling tech terms and reading up on the forums is a great way to get started… or unstuck!" He recommends Polycount, for video animation, and Creative Crash, for 3D animation queries.
Find Zane online: MySpace, Universal Nomads, Microcosmic Sneeze.