Filmmaker Ann Marie Fleming on mentoring Hothouse animators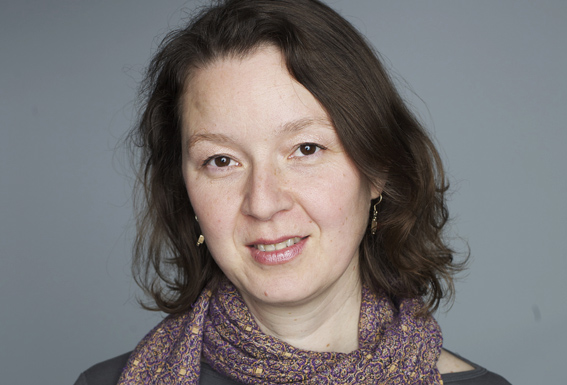 Hothouse is a 12-week paid apprenticeship program for emerging filmmakers that has been taking place in the NFB's Montreal Animation Studio since 2003. Each year, a different filmmaker is chosen to mentor the participants through the project.
This spring, 6 participants were given 3 months to produce a short animation film in stereoscopic-3D, and Ann Marie Fleming accompanied them through it all.
This is an interview I did with Ann Marie by project's end, in which we discuss the particulars of 3D animation, the importance of staying on schedule and her own current and upcoming projects.
Carolyne Weldon: You direct and produce films. How much teaching/mentoring had you done prior to this experience as a Hothouse mentor?
Ann Marie Fleming: Well, first of all, I wouldn't necessarily call what I did here "teaching"! I guess that before this, the closest I came to "teaching" was when I was a Master's thesis adviser at the University of Chicago. Otherwise, I've given lots of workshops over the years… all over the place.
CW: Your films are all in traditional 2D. How did you enjoy assisting young filmmakers produce 3D films?
AMF: I was very reticent to accept this assignment when it was first offered to me [by the NFB's Maral Mohammadian and Michael Fukushima] but I eventually got excited about the idea of mentoring and decided to go with it. I ended up learning a lot about [3D stereoscopic animation technique] SANDDE myself.
This year's Hothousers [Hothouse participants] were selected based on the fact their projects would be interesting – in one way in another – in a 3D context. Quite honestly, as far as my role was concerned, I think I was more useful to them in more traditional animation techniques. That being said, many filmmaking skills do not depend on the final format of your project. One thing I feel like I did a lot was helping people keep on schedule. This involved two things: simplifying as much as possible, and working backwards from your deadline, trying to figure out by what time you need to have something done to be finished by this other time. I helped with titles a lot, too.
My style is not that of the intrusive, directive mentor. I'd say I was more of a lurking mentor. A lurker.
CW: What were some of the challenges?
AMF: The Hothousers had very different levels of 2D animation and computer proficiency to start with. Some were coding away and others where basically computer illiterate. So learning how to animate in 3D, with SANDDE, was a different experience for each. Yet for films – finished films – that are just under a minute each, each managed to experiment with the technique and create a product they were satisfied with. To me, some of the most interesting explorations had to do with 2D/3D clashes… looking into the cognitive discomfort that comes from having an object put in one eye and not the other, for example.
It was also interesting to look into the particularities of sound design and mixing for 3D. The level of complexity with 3D is always more. It's not just adding a dimension, it's not just doubling the work. It's more complex than that.
CW: You just completed production of I Was a Child of Holocaust Survivors. What are the next steps in your film's life?
AMF: I Was A Child… is just beginning its festival life now. I would like it to have a great festival life, obviously, but I'd also like it to enjoy success at large, outside of what you'd perceive as its "target audience" i.e. Jewish communities, families of Holocaust survivors and other Holocaust "specialists".
I think this idea of living in the shadow of an experience that was not your own speaks to the younger generations. It's the ultimate second generation experience. Because to me, it's not only a Holocaust story; it's a human story. I'm quite proud of the film.
CW: What will you be working on next? New projects on the horizon?
AMF: There are two things, amongst others. One is a feature-length animation film that explores a father-daughter relationship in Imperial China. The other is an upbeat, multimedia and multigenre musical film that retraces the true story – that somewhat devolved into urban myth – of a woman who poisoned these age-old trees because they blocked her view. Exciting stuff.