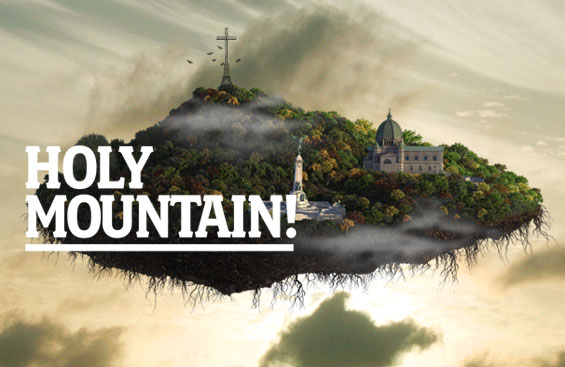 Holy Mountain: A city's landmark or a spirtual experience?
Holy Mountain is a new interactive web documentary that looks at our relationship with the sacred through the city's landmark, Mount Royal (aka the Mountain).
I think it's safe to assume that everyone who lives in Montreal has some sort of connection to the Mountain – Sunday afternoons at the Tam-Tams, a picnic at Beaver Lake with the family, or maybe group hike or solitary bike ride. But are you aware of all the sacred icons that call the Mountain home? From the Notre-Dame-des-Neiges Cemetery to the statue of La Renommée (aka The Angel) – not to mention the famous illuminated cross at the summit – Mount Royal is filled with religious symbols and has been the site of many varied spiritual experiences.
When you arrive at the web site, you see the Mountain removed from its urban context. Designers Philippe Archontakis and Nicolas S. Roy used progressive 3D imagery to make it float in the air – a microcosm that invites exploration. Here, you will discover the remarkable people who populate the Mountain, along with its secret spaces and its incredible history.
Each of the project's 6 zones includes video clips and photos that tell stories that are both moving and surprising. New content is uploaded to the site every 2 weeks for an eventual total of about 50 different segments.
Want to participate in the project? It's easy!
Just call 1 877 55 SOUVENIR and record a story or memory related to the Mountain on our voicemail box. Your messages will be broadcast on the site, forming part of its soundtrack.
Visit http://holymountain.nfb.ca today and explore Mount Royal in a whole new way.