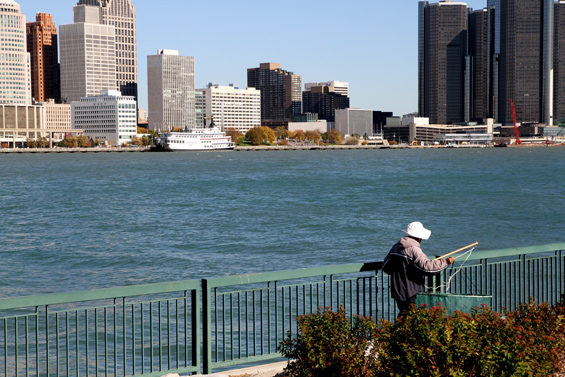 NFB Tour: Windsor, Ontario
Against all odds, our pre-dawn flight left Timmins on time. The previous night, the taxi driver who drove me to my motel told me that the weather forecasts were so bad that a businessman had just hired his colleague to drive him to Toronto, 9 or 10 hours away, because he couldn't risk missing his morning meeting. But we were lucky. The brave little Dash-8 propeller plane tore right through the cloud cover and off we went.
Windsor, upon arrival, was violently sunny. It was the sort of day where the weather's so nice people nod and say hello to strangers and feel inclined to walk, instead of waiting for the bus. I went for a walk around town.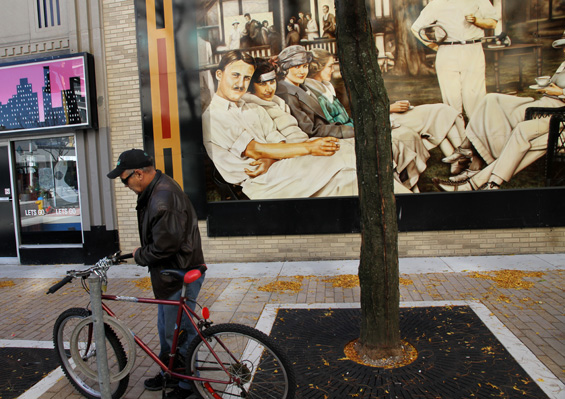 Making my way down to the waterfront, I noticed the French influence was more noticeable than I'd expected. Many streets were named after common French family names. One of the city center's busier streets, for example, is called Ouellette (pronounced, endearingly, "O-L-ette"). The city was also remarkably diverse. I got pretty excited about trying this Ethiopian joint, for lunch, but it was closed.
Down by the Detroit River, separating Windsor from the American city of Detroit, I chatted with some young US Coast Guards, who were smoking cigarettes on the deck of their ship, at anchor on the Canadian side. I wondered what sort of effect such proximity to the United States had in the lives of Windsorites. How neighbourly was everybody? How were identities being preserved, shared?
That night, Tom's presentation was held at the Windsor Art Gallery, an interestingly shaped modern building, all covered in glass. It was a great turnout, and after Tom finished telling his story, he turned the microphone over the crowd. The questions and stories touched on many subjects, from how to get internships at the NFB, to water quality, to the changing needs of public libraries. Many interventions were followed by healthy rounds of applause.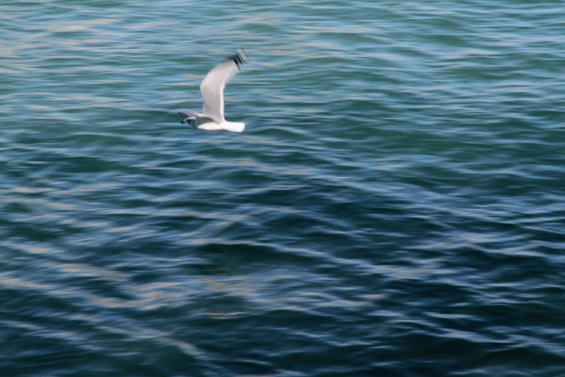 A man who identified himself as American, and was later introduced to me as the director of the Windsor Symphony Orchestra, spoke of his fascination for Windsor's 300 year-old French presence, and of his sadness at watching it go. "With the CBC downsizing and budgets being cut, tradition is dying, storytelling is dying," he said. "We are in the midst of losing our connection to the language that founded this community," he said.
A francophone man said in English that French was progressing in some ways, locally, but also regressing. "Assimilation is rampant, with our situation right next to the border," he said. "These days, the youth are more in tune with American culture than Canadian culture – let alone French Canadian culture. That would be an interesting story to tell," he said.
At the other end of the room, a young woman named Suzie said she echoed what had been said so far, especially with regards unemployment and the necessity to present a more united front, in the face of rapid immigration. She said one crucial reality had been left out, however. "What's missing from this discussion is the health issues relating to the cancer epidemic in this community," she said. With proximity to Detroit, and Windsor's own character as an industrial city, she said poor air quality was an issue that affected everyone and could no longer be ignored. Seeing how rare jobs were, Suzie said she realized how lucky she was to have landed a "good job" as a customs agent. What wasn't normal, however, was having to worry about her health, every morning, as she headed to work, a border crossing where 15,000 trucks are screened every day. "It's like I'm potentially investing in my own death," she said.
Toward the end, a man with grey hair spoke. "As great at these kinds of meetings are, I think it's important to realize you're preaching to the choir, here," he told Tom. "For every one of us here tonight, there are 1,000 at home watching L.A. sitcoms." He invoked the "sacred mission" of Canadian institutions such as the CBC and the NFB, referring to them as "the glue" that held the country together, and fostered "its value of tolerance and decency."
"It is your role to make our stories interesting, to make them accessible," he said, mentioning that this mission was more urgent than ever. "We're like the elbow of a mouse poking in the side of an elephant here," he said.