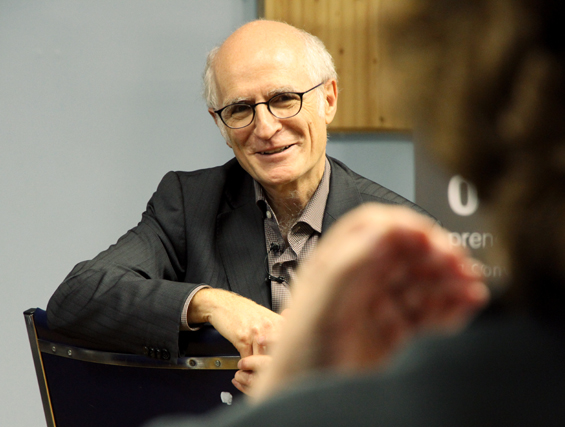 NFB Tour: Timmins, Ontario
* This post was translated from French.
Landing in Timmins wasn't a sure thing given the bad weather, but we finally arrived—hale, hearty and in good spirits. It turns out to be misty and warm for an October day in Timmins and I spend part of the afternoon wandering the city streets and soaking up the atmosphere. Along the way I take a few photos. I spot a Polish butcher shop and pop in. The friendly owner, a remarkable woman, plies me with tasty goodies, including a wonderfully scrumptious home-made beef jerky. Leaving the shop, I happen to run into Harry Snowboy, a traditional Cree healer from Chisasibi, Quebec, who tells me a great deal about the work he does in his community and about the book he just had published. As we say goodbye, he insists on having a friend of his take our photo. "No one ever takes pictures of photographers," he says. "It's not fair."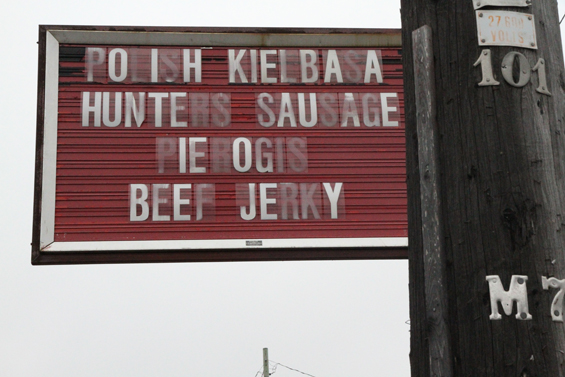 In the evening, we gather at the Centre Culturel La Ronde, where Tom`s meeting is to take place. The centre`s director, Ludger Cloutier, takes us through the three-storey building entirely dedicated to the French language and to Franco-Ontarian culture. We walk through a large reception hall used for marriages and concerts; it's also the place to be on Mondays and Wednesdays for the popular French bingo games. Arriving at the dance studio, we can just make out, from behind one-way glass windows, silhouettes of the girls from the Dansons La Ronde group practising their pliés at the barre. "We've noticed that parents place great value on their children being involved in activities in French," Mr. Cloutier explains. "French is thriving in Timmins," he adds. He continues by saying that the city is one of the few communities in which French speakers can study in French from kindergarten to university, without having to leave town or being forced to study at bilingual educational institutions. "That`s quite something," he says. "We're very proud of that fact."
Tom is now welcoming the public and I am about to see and hear his presentation for the first time. The collage of excerpts from his biography interspersed with NFB film segments both surprises and deeply moves me.  Everyone has a story to tell, but Tom`s is exceptional. Son of a Holocaust survivor and refugee, he arrived in Montreal as an immigrant at a very young age, became a Canadian citizen and is now Chairperson of the National Film Board of Canada. The evening's stories, told in excerpts from our films interwoven with Tom's personal narrative, are linked through the themes of identity and establishing a home, and underscore the importance of sharing these stories which hold our society together. Tom's narrative takes us deep into his own life's experience, at once profoundly sad and funny and takes us back into our own world, helping us to think about our own stories─those that belong to all of us.
After the meeting, I see that I'm not the only one whose emotions have been stirred. Sylvin Lacroix, the Executive Director of the l'Alliance de la francophonie de Timmins, housed in the La Ronde Cultural Centre, takes the mike. One of the clips in Tom's presentation is a photo essay from the GDP project which had documented the workers' lockout by Grant, a Timmins lumber company. Grant locked out 105 workers and has left them without a job for the past three years. "These are strong images," says Sylvin. "Our forgotten lockout… It`s crazy that it takes people from Toronto or Montreal to remind us about this lockout. These stories are important. It`s happening right under our noses and even I had forgotten all about it."
A man sitting close by also speaks up. He's a psychology professor at the university and he talks about his student years when he lived in residence and NFB films were the only entertainment they had on Saturday nights. "We didn`t always like it. We said, 'Not again. A bunch of talking heads.' We would have preferred Elvis Presley movies. But we always learned something. Those films planted seeds that took root. The films about settling the north, my first contact with Felix Leclerc… It's good to have to overcome obstacles when you're learning something. Forcing yourself to make an effort." He continues by saying that since then, seeing the NFB logo always stirs up deep feelings.  "As teachers, perhaps we need to air out our 'baggage.' We lack courage. We have to say: 'Listen to this; it's not just a bunch of words.' If we look with our heart, things slowly rise to the surface," he says.