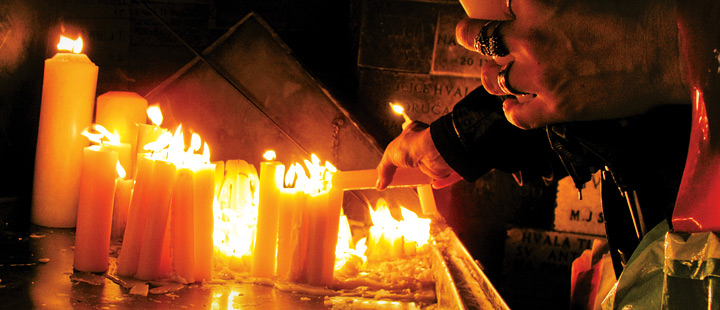 Montreal High Lights Festival highlights
The Montreal High Lights Festival (Festival Montréal en Lumière) is a big midwinter party showcasing culinary events, live music, performance art, exhibits and light shows. The 2011 edition runs February 16 to 27 and culminates with the Nuit Blanche (Feb. 26) an all-night event than lasts till Sunday morning.
There's obviously tons to check out during the festival (find the full programming here), but here are two things I wanted to tell you about more specifically.
1- The first is a projection, onto the façade of a church, of images from my esteemed colleague Gil Nault's interactive project/photo essay hybrid Réminiscence apocryphe. From Feb 27 to March 5, photo stills from the project will be projected onto the steeple of UQAM's Saint-Jacques Church, from sundown to midnight.
Beyond the fact Gil's images are stunning and that you should absolutely go check them out if you happen to be in town, I think it is very fitting, seeing that in its online incarnation Réminiscence apocryphe is a visual exploration of the waning presence and uncertain legacy of the sacred in Quebec, that the canvas they will be projected on is this repurposed church. Full circle. Everything's in everything, like they say.
Check out the online project here, and if you're comfortable navigating the interwebs in French, feel free to consult and join the Facebook page.
2- The second thing I would urge you to check out is the Socalled event on the night of the Nuit Blanche (Feb. 26). The evening kicks off with music by the Point d'écoute collective, followed by a screening of The Socalled Movie, followed by a live performance by Socalled himself! All for the great price of free! I've seen both the film (it's an NFB co-production), and Socalled live (at the Dawson Music Festival, in the Yukon – long story) and I can assure you those two things will add up to a really fun evening. On a Venn diagram, "Socalled" and "boring" would show no overlapping at all.
Find the details of the event here, or visit the CinéRobothèque's website. Happy High Lights, everyone.