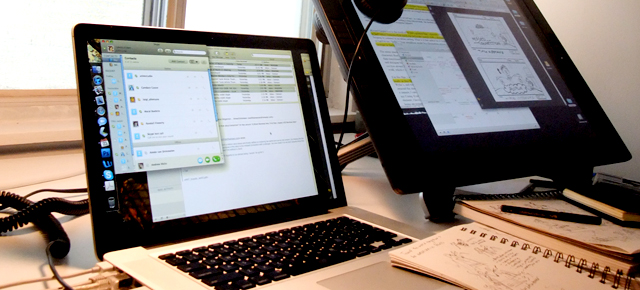 Hothouse 7: Remote Access
The following is a guest post by Tabitha Fisher.
In the seventh edition of Hothouse the filmmakers are working on their projects from home, which poses the special challenge of maintaining budding relationships with collaborators and friends through cyberspace. On my first day back to Toronto after orientation I wasn't able to log into Skype's video chat service and found myself pitching a storyboard over the telephone – not what I had in mind! Within hours I was frantically cycling to the nearest Rogers outlet to exchange my antiquated modem for something a little more 21st century.
But now I'm up and running again, and things are going smoothly aside from the occasional frozen screen. My home setup consists of a Macbook Pro attached to a Cintiq monitor where I'm able to draw in Photoshop to simulate the line quality found in my sketchbook. We're still trying to sort out the collaborative element of Hothouse 7, but things are moving in the right direction and I never feel alone.
As much as I love the idea of working in Montreal, being at home does have its advantages. Days blend seamlessly into nights and sleep and/or mealtime is always a few feet away! But seriously, the amazing thing about experimenting with this technology is that it widens the reach of the NFB and allows filmmakers from across Canada to collaborate in ways never imagined. Theoretically I could be working on a boathouse on the coast of P.E.I. or a noodle shop in Vancouver and each location could lend something unique to the film. And with each year the technology gets better.
After all that Skyping, it's comforting to know that the end of production will be unusually happy. It's when we finally meet again.