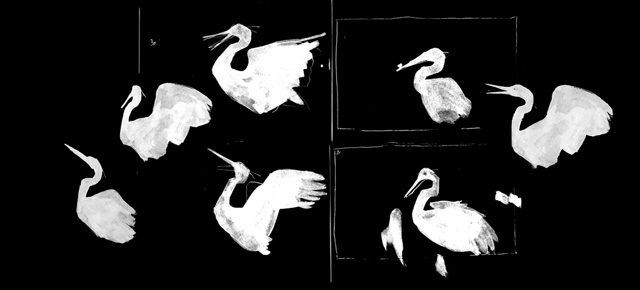 Hothouse 7: Animating animals… Am I crazy?
The following is a guest post by Aimée van Drimmelen as part of the Hothouse Program.
***
All week and all weekend has and will be spent working with the tireless Jelena Popovic, editing and tweaking our animations in preparation for Picture Lock. For those not in the know (like me, not too long ago), picture lock is a deadline where everything that's going to be in the film has to be there and perfectly timed. From there our mentoring director Luigi starts work on the sound and foley (sound effects) recording. The animation can still be stick figures at this point, but whatever the action is, it will now be locked in with the sound. Then we refine everything from there.
Refining. If there are any seasoned veterans reading this, as a first time animator I need your help! Long finished shooting my backgrounds (stop motion, moving ink on drumskins) I'm now working on several short hand drawn animation sequences of animals, birds, and a school of fish. I've scoured the internet for appropriate video clips, which I then take quick screen shots of and re-make into slo mo movies in After Effects (see below). I'm trying to redraw the complete subject for each frame (as opposed to just moving a head or an arm) which I hope will give a nice organic "boiling" effect. This technique has worked best in the animation sample below precisely because I had a perfect sequence of images to draw from, but my god, how do I animate a SCHOOL of FISH? Lots of trial and error I guess. I'm going to the library tomorrow to look for Animation 101 books – maybe I'll find a gem to help. If anyone out there has resources or tips, I invite you to drop me a line, or share them in the comments section. Merci!