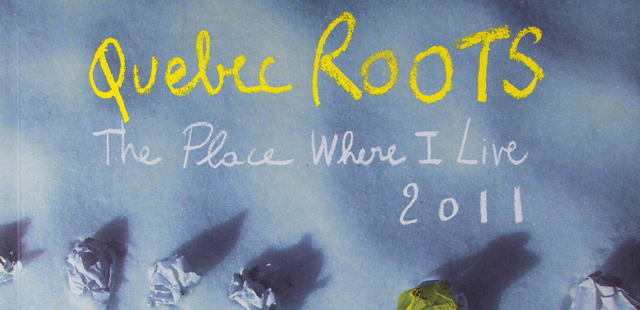 Quebec Roots: The Place Where I Live – 2011 Edition
The following is a guest post by Kathy Sperberg.
Musings On the Land in Winter or Hunting Ptarmigan, having a Close Moment with a beloved grandparent, poetic verse about Nerds and Drens (a female nerd; note the backward spelling) . . . These are the imaginative offerings of students from across Quebec, from Nunavik to the heart of Montreal, contained in the 6th edition of Quebec Roots: The Place Where I Live.
Recently launched at Montreal's Blue Metropolis literary festival, the book was produced by Anglophone students from 10 participating schools and is comprised of prose, poetry and essays accompanied with photos. Students were mentored over the course of several months by renowned Quebec authors and photographers.
This year's collection is an anthology that spans rich cultural terrain, from northern communities to the lower north shore, from rural Quebec to urban Montreal. The result is a resonant reflection on the cultural diversity of Quebec communities as seen through students' eyes. This project harnesses students' abilities to convey creative ideas through storytelling, introduces them to the process of fusing writing and imagery and to the multiple stages required to perfect their craft.
At the root of media literacy – You can learn more about the Quebec Roots project and this year's mentors and find useful links to resources about photography and writing at Quebec Roots.